Spyderco Siren Observations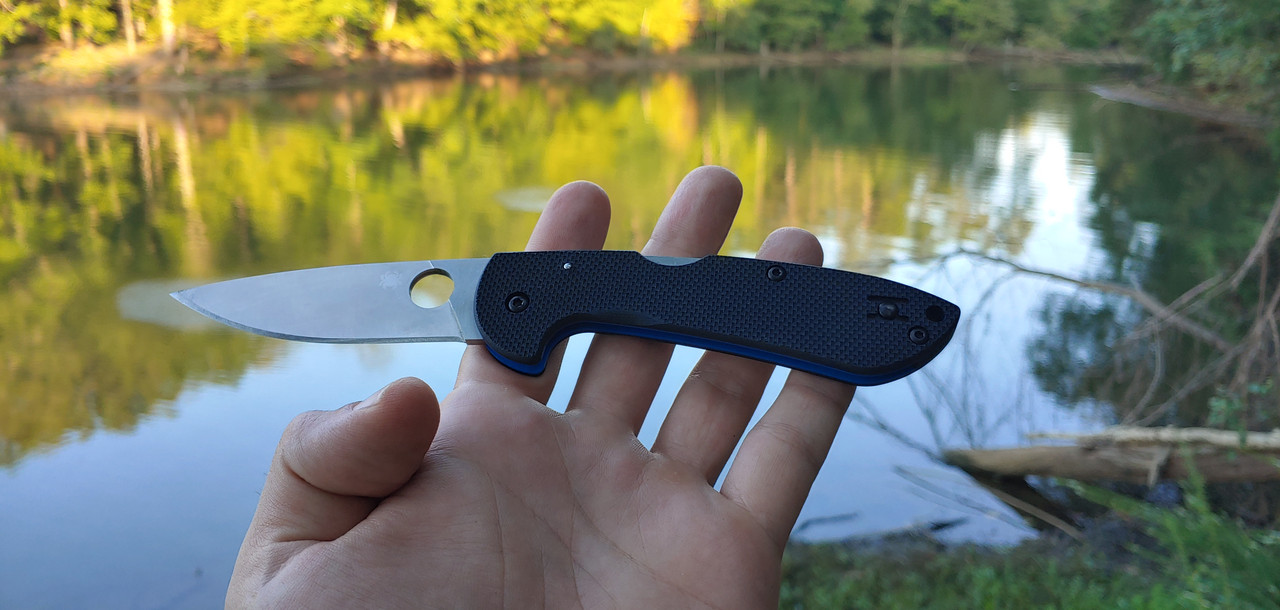 Overview
The Siren is a rust proof linerless lockback folder designed by forum regular Lance Clinton. It bears many similarities to the Waterway fixed blade,
which you can see me use in this video.
While the knife is marketed as a salt folder, I find it to be an excellent general purpose design. The knife is very light and folds into a compact package. It's wonderfully balanced with a versatile sweeping belly blade shape.
My Endura 4 wharncliffe is 3.39 oz and the Siren is 3.46 oz, so you're looking at roughly the same weight as an Endura 4 despite the larger, more palm filling handle and longer cutting edge.
The overall quality is noticeably higher than my beloved Pacific Salts. Everything feels smoother and more refined, from the pivot action to how well all the parts fit together. It really feels like a one piece handle.
Blade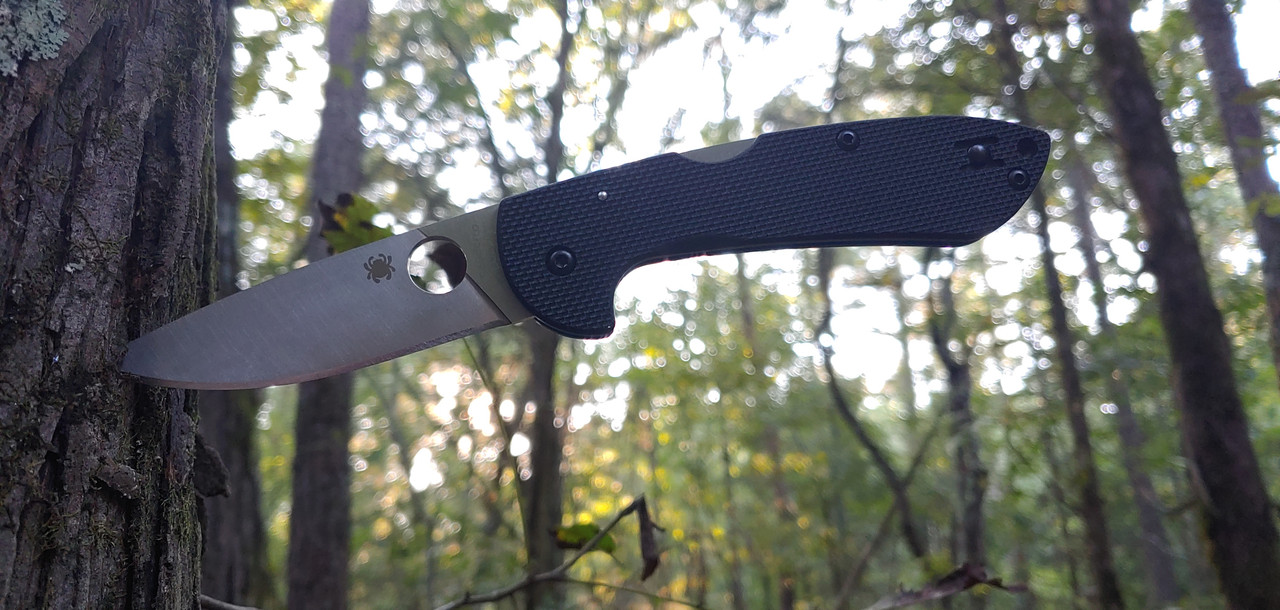 The blade of the Siren is 3mm thick LC200N with a full flat grind.
Three features of this blade I immediately appreciated were the efficient use of space, the lack of a thumb ramp, and the narrow tip.
The Siren does a good job of packing a lot of cutting edge into the blade for a lockback. It has about half the wasted space as my Pacific Salt 2: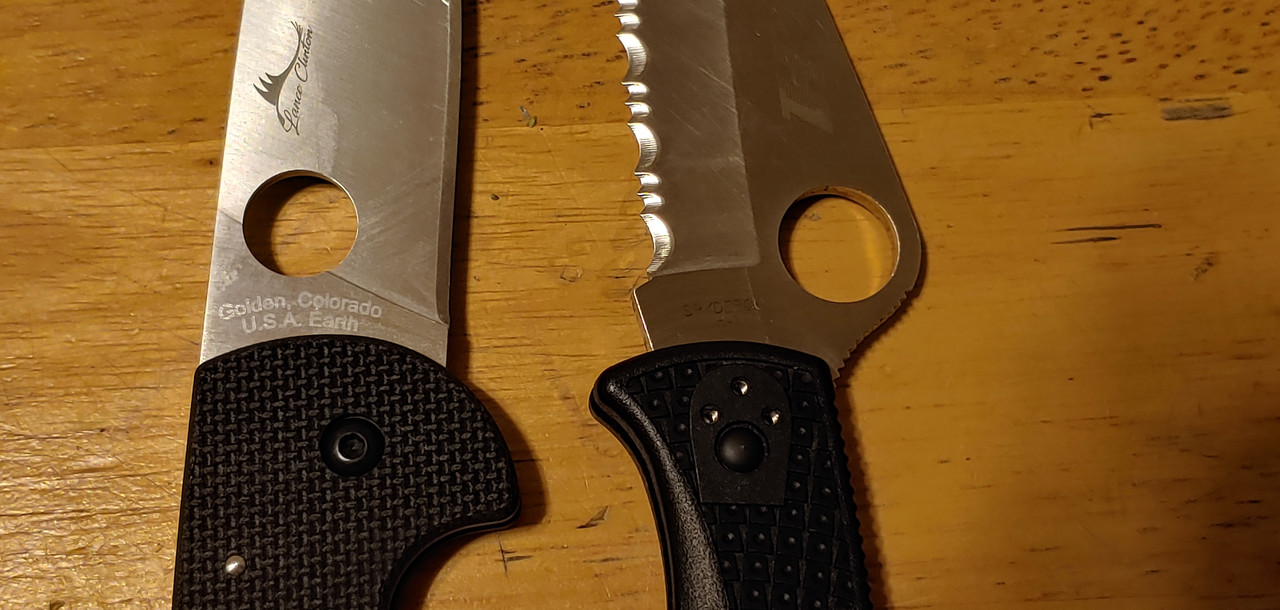 With no thumb ramp to restrict my grip I really enjoy the ergonomics of this knife. Choking up or holding the knife in the regular grip, my thumb always has a
comfortable place to rest.
The tip is more narrow than most Spydercos, piercing very effectively. Here it is compared to a stock Pacific Salt 1 and a Pacific Salt 2 with a straight spine mod. You can see its very close to the modded Pacific 2's tip: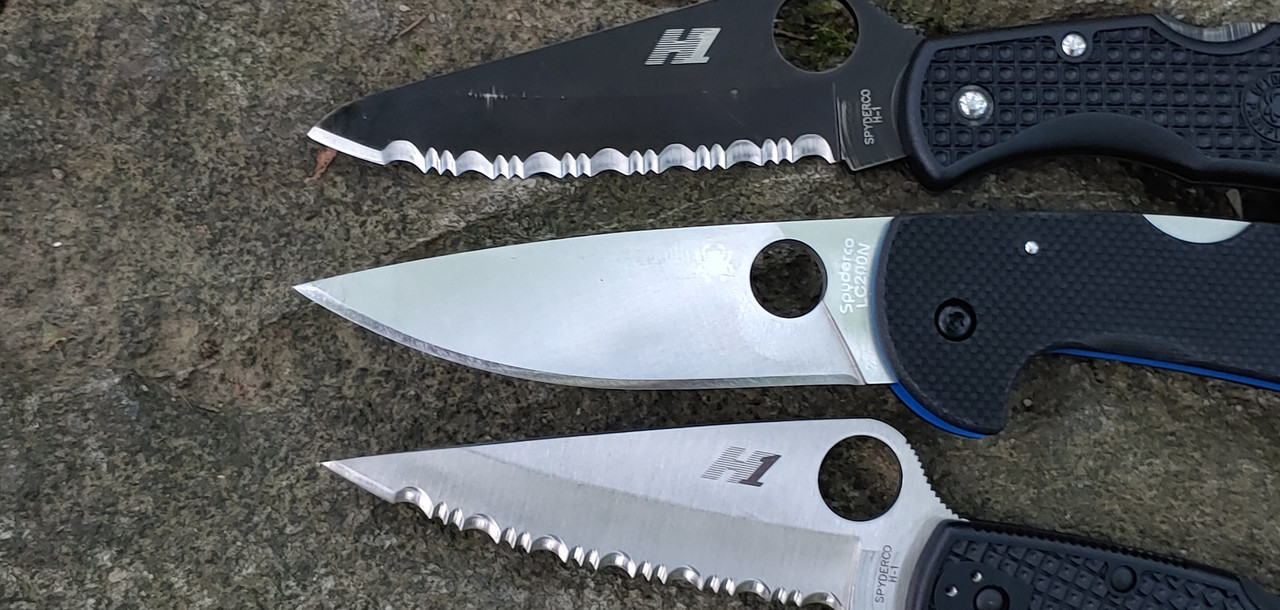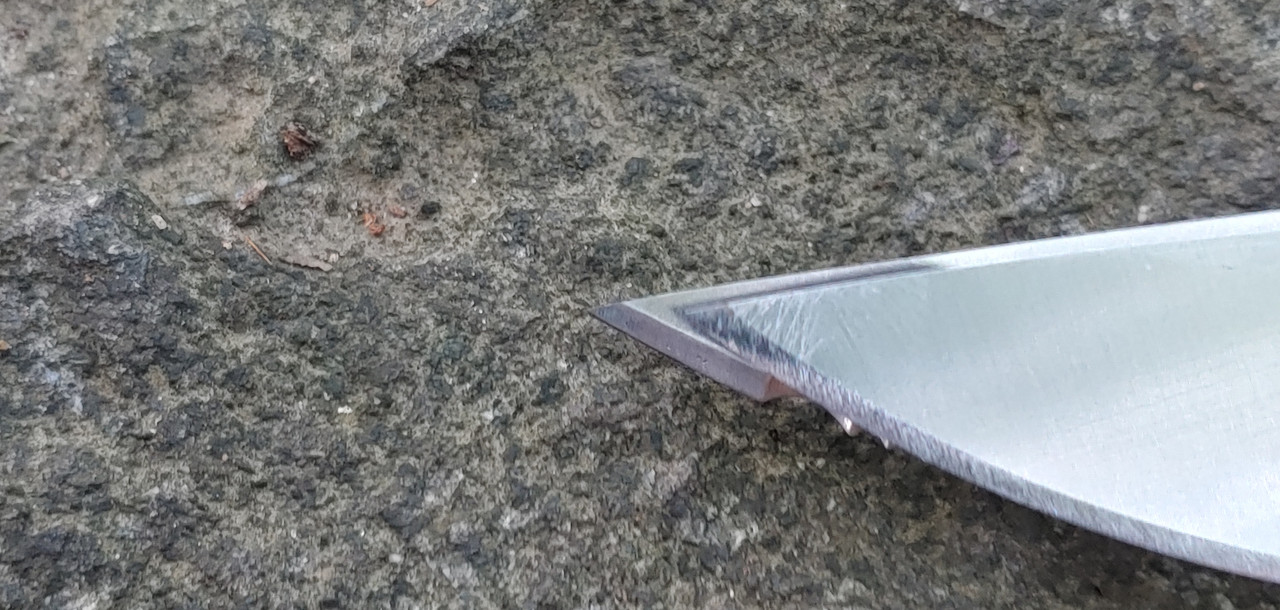 The spine of the Siren came with very crisp corners. So sharp I ran a ceramic rod over them for a couple passes to take the edge off. I like sharp spines because they're perfect for throwing sparks from a ferro rod.
The Siren does this job very well, as you can see here
The LC200N steel is excellent, one of my top 5 blade steels. To sum up its performance I'd describe it as a rust proof VG10. It has good edge holding, good toughness, sharpens very easily and takes a wonderful edge. I have never made this steel rust, and I have tried. It is on par with H1's corrosion resistance for me.
The knife came with a nice full flat grind and a thinner than average edge. I'd guess it was in the 14-16 degrees per side range. The factory edge felt more polished than I've typically seen, feeling smooth to the touch when I ran my nail along the blade. I've experienced better edge retention with the thinned out lower grit edge I've been using.
I sharpened the Siren with my standard process. I thinned out the edge on coarse diamond plates to roughly 10 degrees per side, then applied a roughly 15 degree microbevel on spyderco medium stones. This would give me a hair popping sharp edge that has some bite to it on a draw cut.
Here is the Siren sharpened on the medium sharpmaker rods popping hairs
I have always found LC200N takes a high degree of sharpness with minimal effort and the Siren is no exception. It's easy to grind but does not want to burr as much for me as other easy to grind steels like AUS8, PE H1 and 440 series steels.
Here it is slicing cardboard
, and
rope
, and some
bread.
One thing that can make sharpening tricky is the angled plunge line. I had to adjust the angle of my strokes when I reprofiled the knife so that they began like this: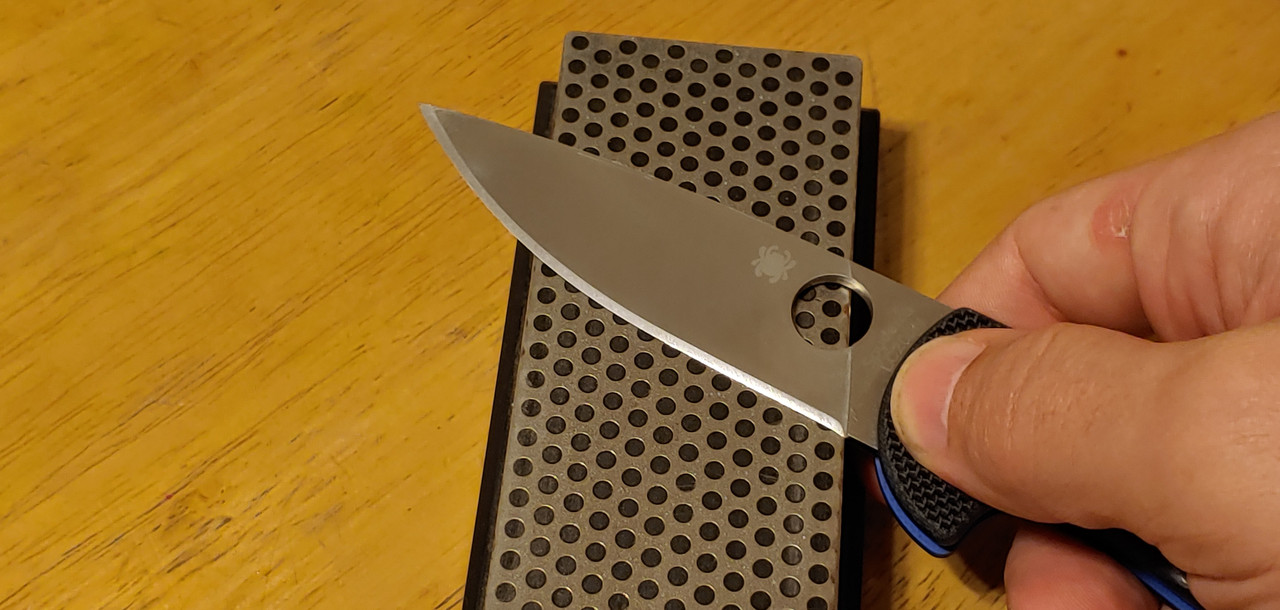 I'm not sure what a vertical plunge line would make worse about this knife, but I know what it would make better.
Handle
The Siren's handle is a nice general purpose shape. It fills my large hands well. I think it would fit my grip a little better if it were maybe 10% bigger overall, but the size used probably had wider market appeal. Here is how it looks in my XL-XXL hands in a variety of grips: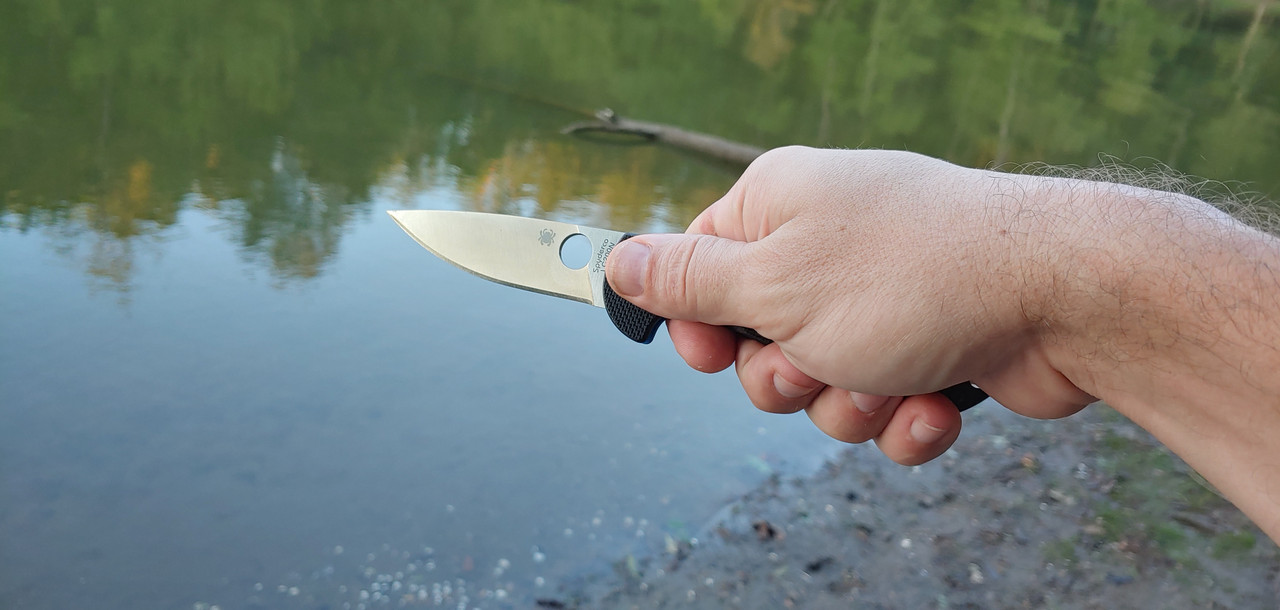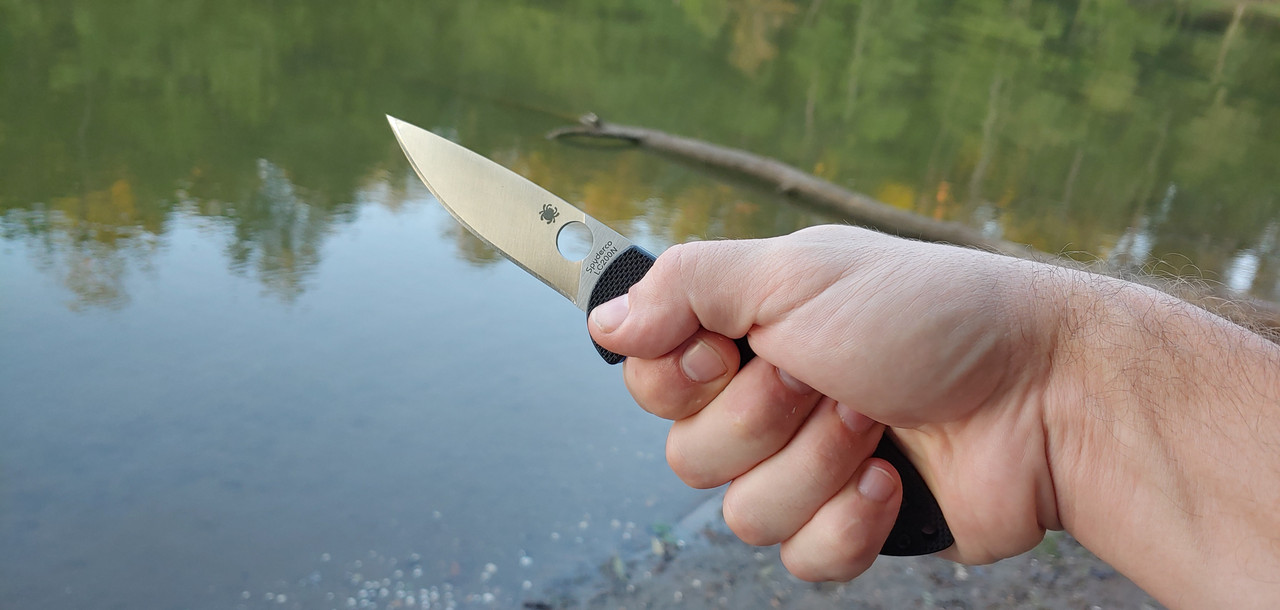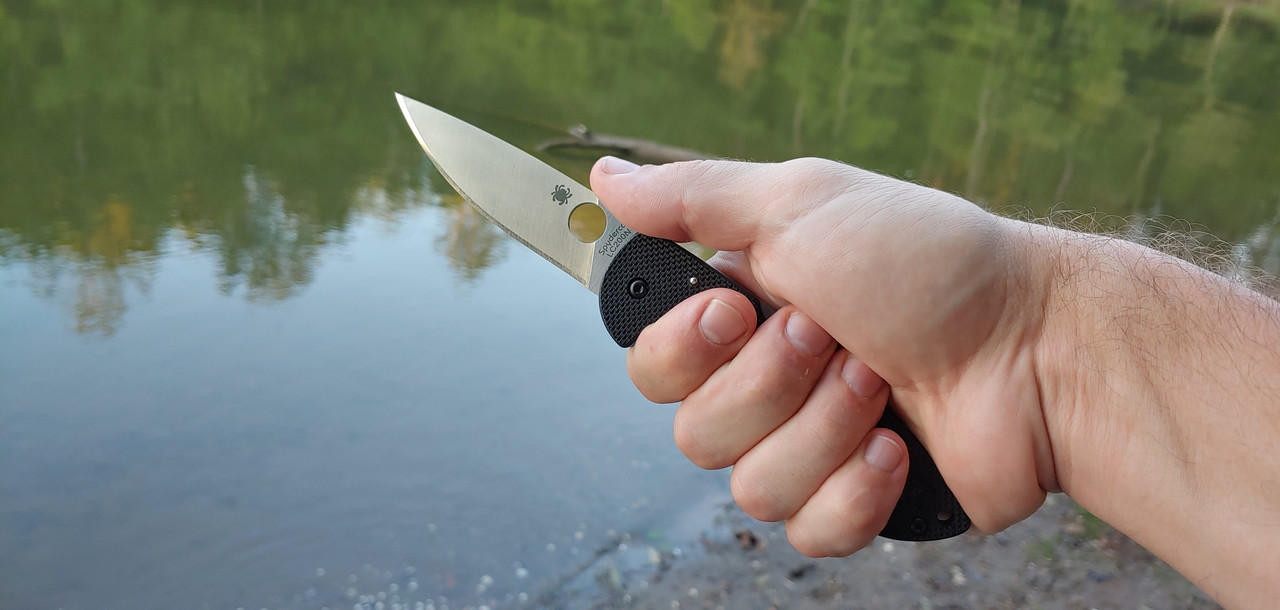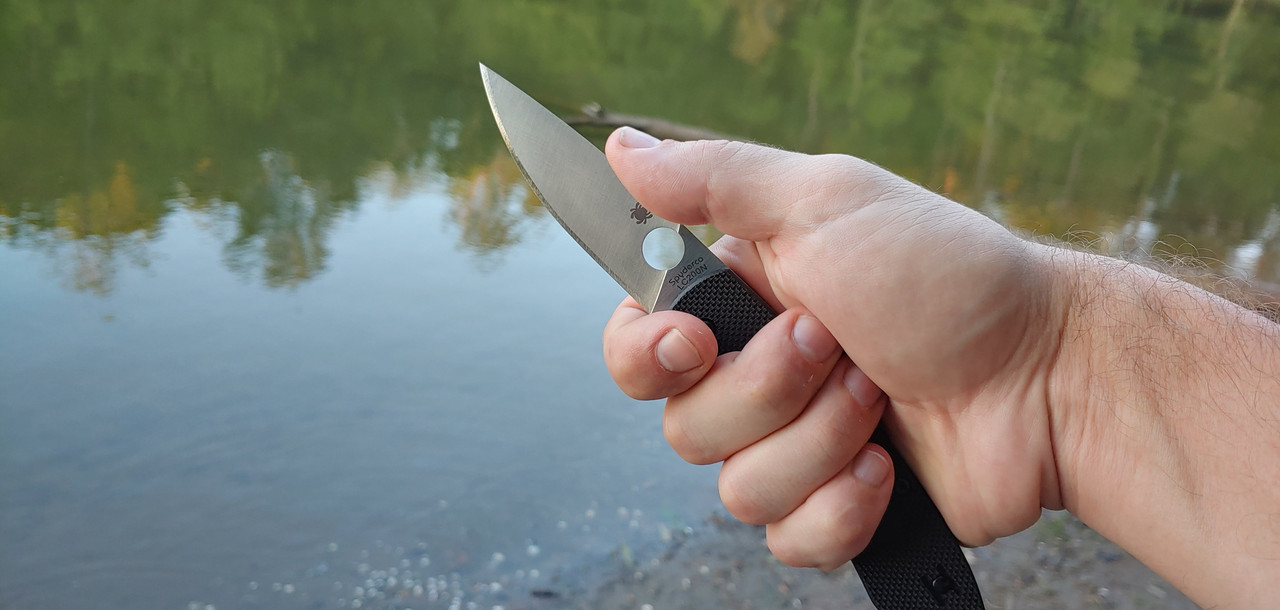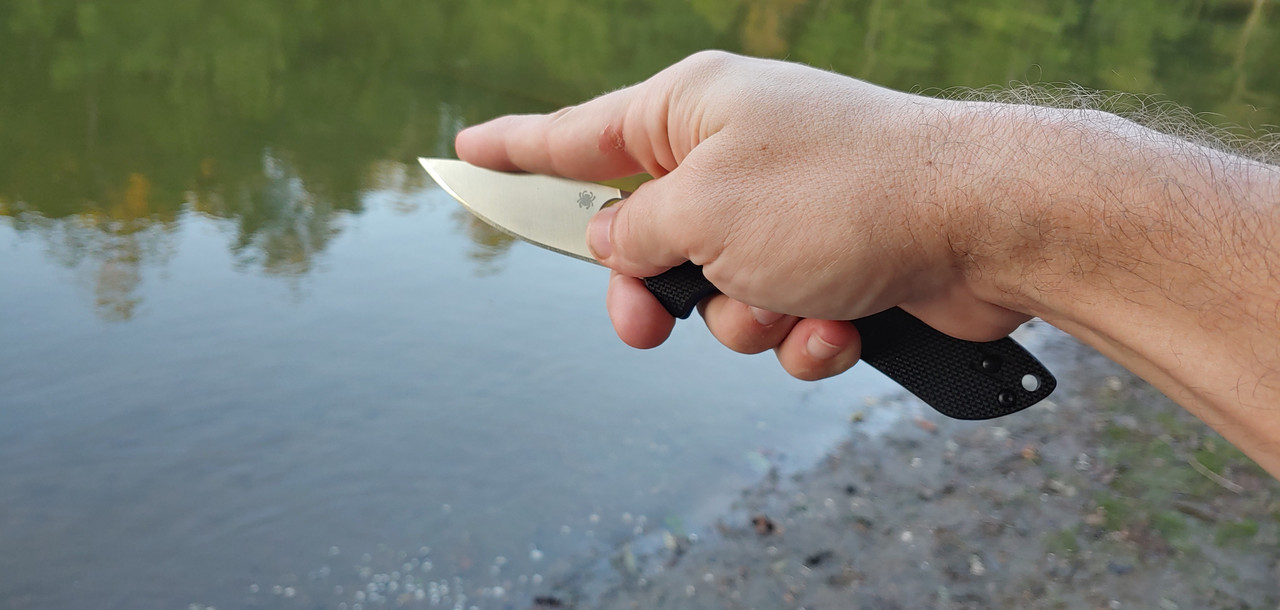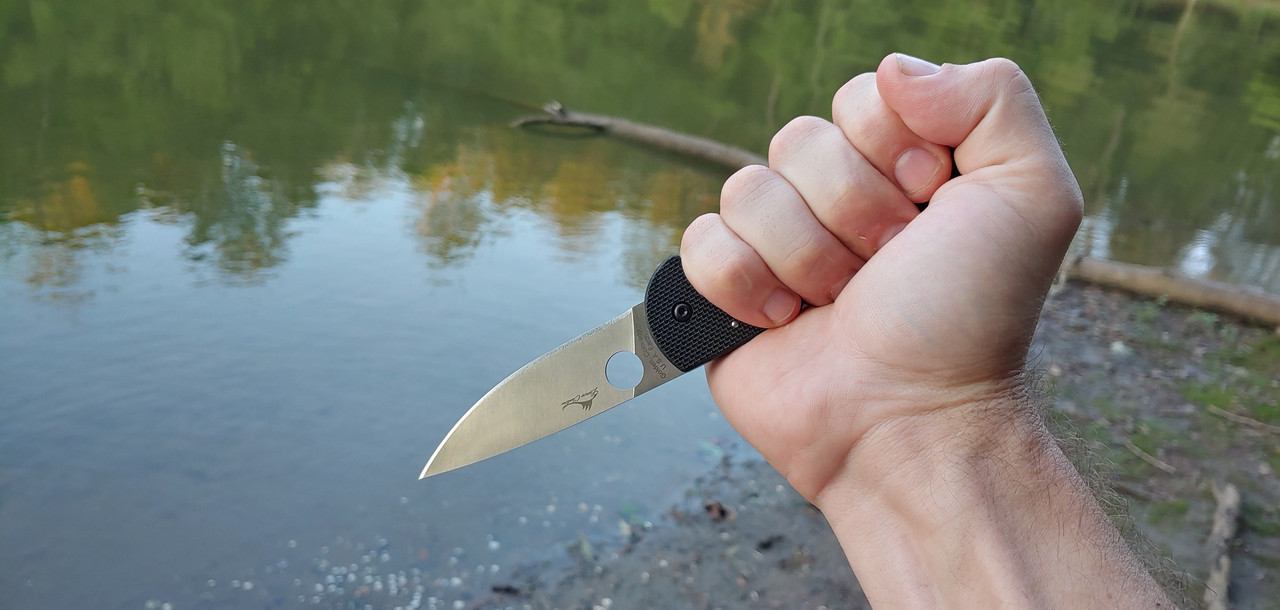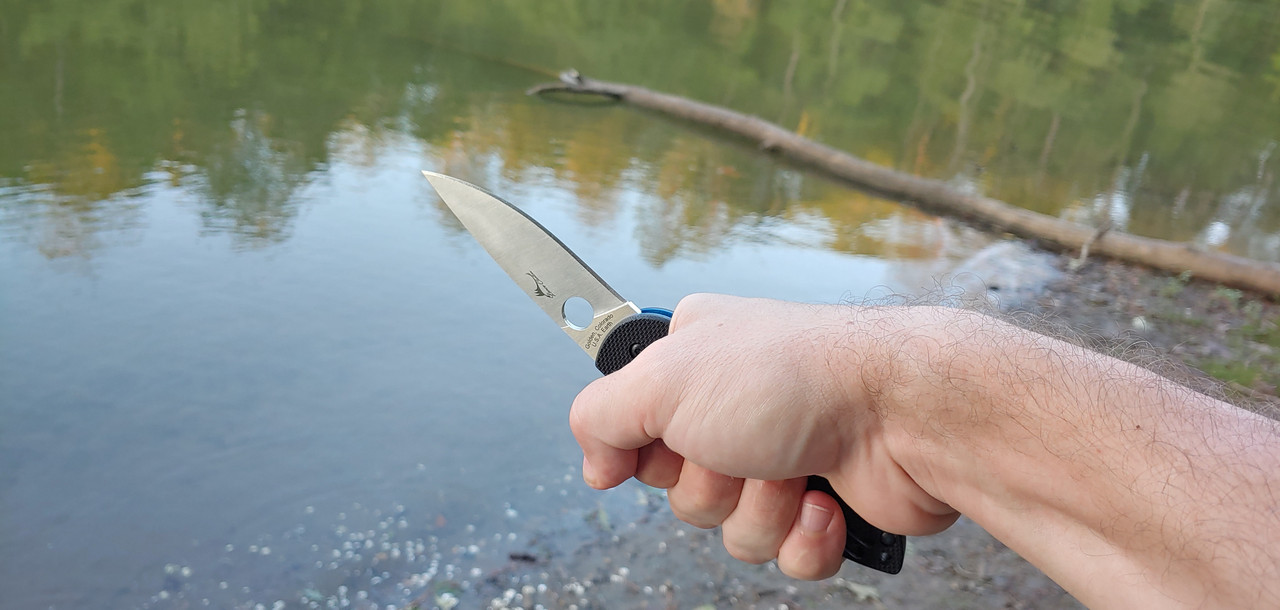 The texture on the scales is extremely grippy. They surprisingly don't feel abrasive to my hand. The Waterway is a bit more abrasive feeling. I really like the feel of the texture while using the knife. Extremely grippy but never uncomfortable or sharp feeling. The scales are fully chamfered along the edge and there's no hotspots anywhere.
Though I enjoy the grippy texture when using the knife
I don't like the extra difficulty it adds to clipping the knife to a pocket or waistband.
I wear running shorts a lot this time of year, and trying to clip the Siren IWB takes a more concsious effort than my Pacific Salt or Police LW.
One nice side effect of these extra grippy scales is once you have the knife clipped, it clings there very securely. You can be confident it won't slide around at all.
The blue liners are a nice touch. They look good and it makes it quick to identify the Siren when you have a pile of similar sized black spydercos laying on top of your dresser. They give it some flair without being as bright and flashy as say, the yellow Salt folders. I'd like to see Spyderco do this to more knives.
Lock
The lock has been perfectly secure for me.
There is mild vertical play similar to my Seki City lockbacks. Having heard much praise for the newer Golden lockbacks and multiple reports of zero blade play I was a little let down. The knife works fine and I don't have any issues with any of my Spyderco lockbacks, but I had hoped to experience a zero blade play lockback.
There has been some discussion on being able to accidentally release the lock. I am happy to report I had no issues with this.
I did notice when I use a side grip and cut things on a cutting board there is significantly increased blade play. The base joint of my index finger partially depresses the lock release in this grip. I've never unlocked the knife by accident this way though.
Here's a video showing the extra blade play in side grip
I considered adding a boye dent with my dremel, but you must press the lock release nearly all the way into the handle to unlock the knife, so there is little clearance for one.
I noticed the tension on the lock spring is much lower than my Pacific Salts or Police folders. I've posted a few videos where I close lockbacks by pressing the lock release with my index finger and swing the blade shut. With most lockbacks that's just something I do for fun. With this knife its my preferred way to close it.
Here's a video showing my three different closing methods and why I like this one the best
You have to be careful using that second method. I know many people like to close lockbacks this way, but if your finger isn't pressed right up against the guard your index finger will get bit: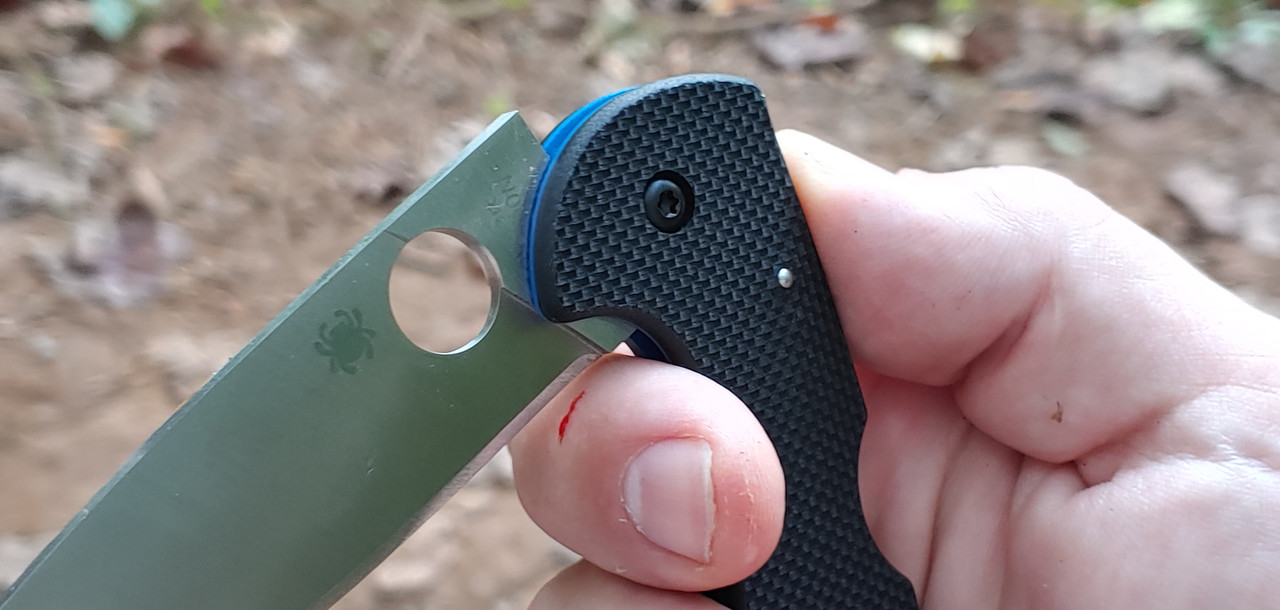 This experience has got me thinking about lockbacks in general, especially with the rockjumper discussions going on. It seems one handed lockback designs may have been held back in a sense by prioritizing being able to close them a specific way.
It also makes me think of the complaints people have of tabs hitting their index finger when they swing a comp lock shut. One can avoid that issue too by using a different closing method,
like this
.
Being able to adapt to different closing methods for different designs may become a necessity as we see the cutting edge move closer to the handle on Spydercos lockbacks.
The compromise required to make a lockback with an edge going all the way to the handle
and
enough kick to facilitate the drop down closing method is you have to move the cutting edge further from the pivot.
The future of lockbacks will be interesting to watch.
Clip
The Siren is the first wire clip equipped knife I've owned in a long time. I used to EDC a G10 UKPK and always appreciated how they interfered with ergonomics less than standard clips.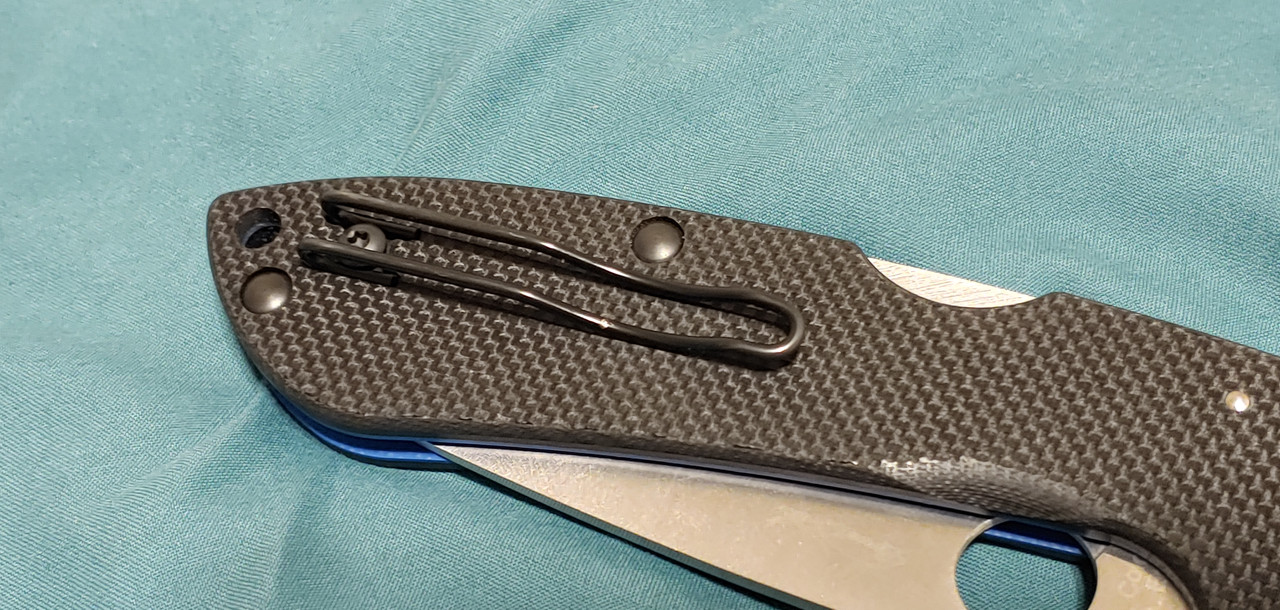 It has worked perfectly. In my head I feel the hourglass clips have got to be stronger, but I've never bent or broken either type of clip so I can't say for sure.
I think the clip location is a good compromise between ease of draw and deep carry. It rides deeper than a lot of my knives, but has a bit of handle sticking out to make drawing easier than full deep carry.
The wire clip can shift around a touch if you grip the knife hard, something I don't experience with the hourglass clips.
The Guts
I attempted to break down the Siren so I could photograph the insides, but the only screws I could get to release with my torx driver were the pivot screws. Neither the clip screw or body screws would budge with hand strength alone. They may require heating up whenever I have to clean the knife.
Here you can see the thread locker residue on the pivot: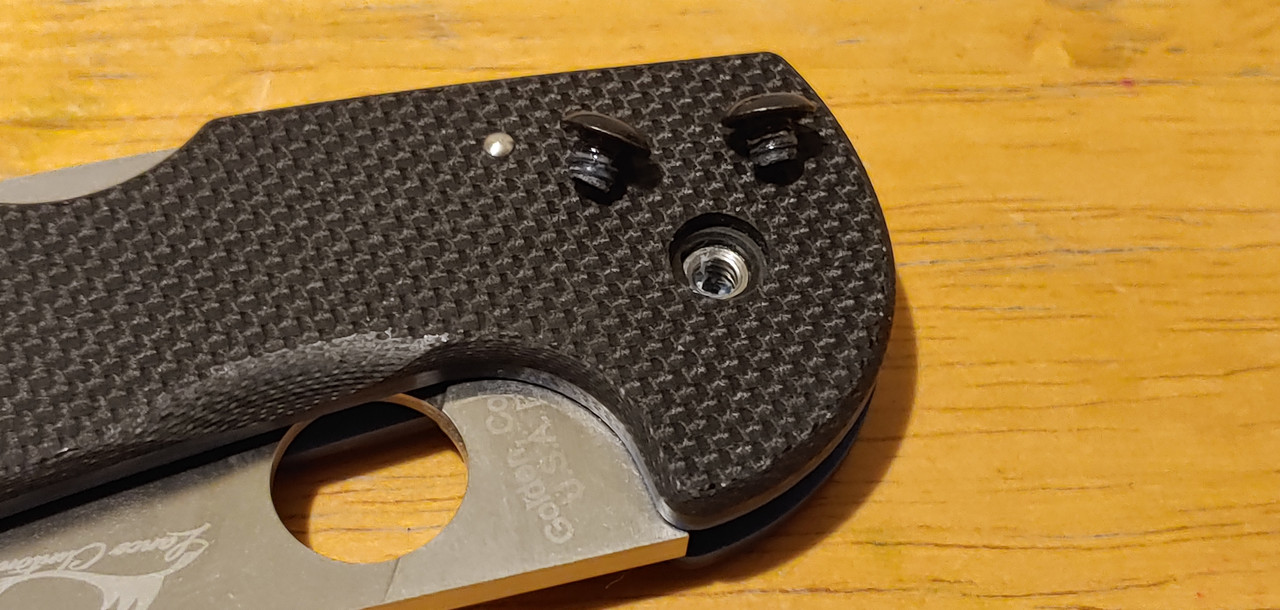 If you want to see the insides search youtube, there's videos up there.
Final Thoughts
The Siren is one of the best folding knives I've tried. I think its a great general purpose design.
It ticks a lot of boxes I look for but have trouble finding in a single design - rust proof, easy to sharpen, no thumb ramp, narrow tip, tip up carry, full flat grind, little wasted space between the edge and handle, and a palm filling grip.
Give the Siren a look if you haven't, it's a very nice design. In a lot of ways it feels like a 21st century buck 110. It's a knife that when you pick it up and feel the ergonomics and the balance, you can tell it was meant to be put to work.