I'm a
huge
fan of Calypsos, Calys, UKPKs and their smaller derivatives like the Urban and Spy-DK, and I've been patiently trying to acquire all the variants of these families. I especially love the Micarta Calypsos and Caly Jr.'s, and wish Spyderco would revisit using this material again someday.
Until recently, there were only two UKPKs remained for me to acquire: the black G10 and CF versions (and I just missed a CF one on the BF exchange recently, dang!). Last March, I pounced on a what I thought was a legit black G10 UKPK on eBay, paying $90 for it from a buyer in Europe. Immediately after receiving it, I noticed it was not legit, but being busy and distracted with other Spydies, I put it away in my closet.
I didn't think about it much more until recently when an email conversation Liquid Cobra and I have been having about his 2 black G10 UKPKs, one of which has a collectors' club number so we know that one is truly legitimate, clinched my suspicions that the one I had was bogus. I've taken some pics to show you the differences between 3 legitimate UKPKs (foliage green, orange, and another black one I managed to find) and the bad clone. The pics that LC sent me of his look identical to the top three UKPKs in my pics.
Here are some things I noticed, some more glaring than others. I'm sure even closer inspection would reveal some more differences...
1. The knife is overall slightly different in shape, being overall a bit longer than the Spyderco ones.
2. The G10 of the clone is a different, more slippery texture and just feels cheaper. In the last shot, you can see that the thickness of the G10 scales and the amount that's chamfered are different on the clone.
3. The Torx body and pivot screws are a different size (T8 not T6).
4. The clip: where do I begin with that clip? How about it's awful, wide, already tarnished, and is secured (off-center) with that garish huge screw. The G10 scales on the clone also do not have slots milled out for the wire clip on both sides.
5. The notch in the blade that engages the spring lockbar (seen in the last shot) is a wider, deeper channel on the clone versus the Spyderco ones. Action isn't actually that bad, inferior to the originals for sure, but it is a mostly functional knife.
6. The blade has a slightly different shape than the Spyderco UKPKs, the font and the Spyder logos are a bit different, and they didn't even bother to try to match the "Golden, Colorado, USA, Earth" on the reverse side. This leads me to believe either people from this country or individuals possibly not even from this planet were or still are counterfeiting these. Of course, whether the steel is really S30V is purely conjecture...
7. The back end of the lockbar ends higher up (closer to the blade) on the clone, and is a bit differently shaped than the Spyderco lockbar. Sorry, I forgot to grab a pic of this.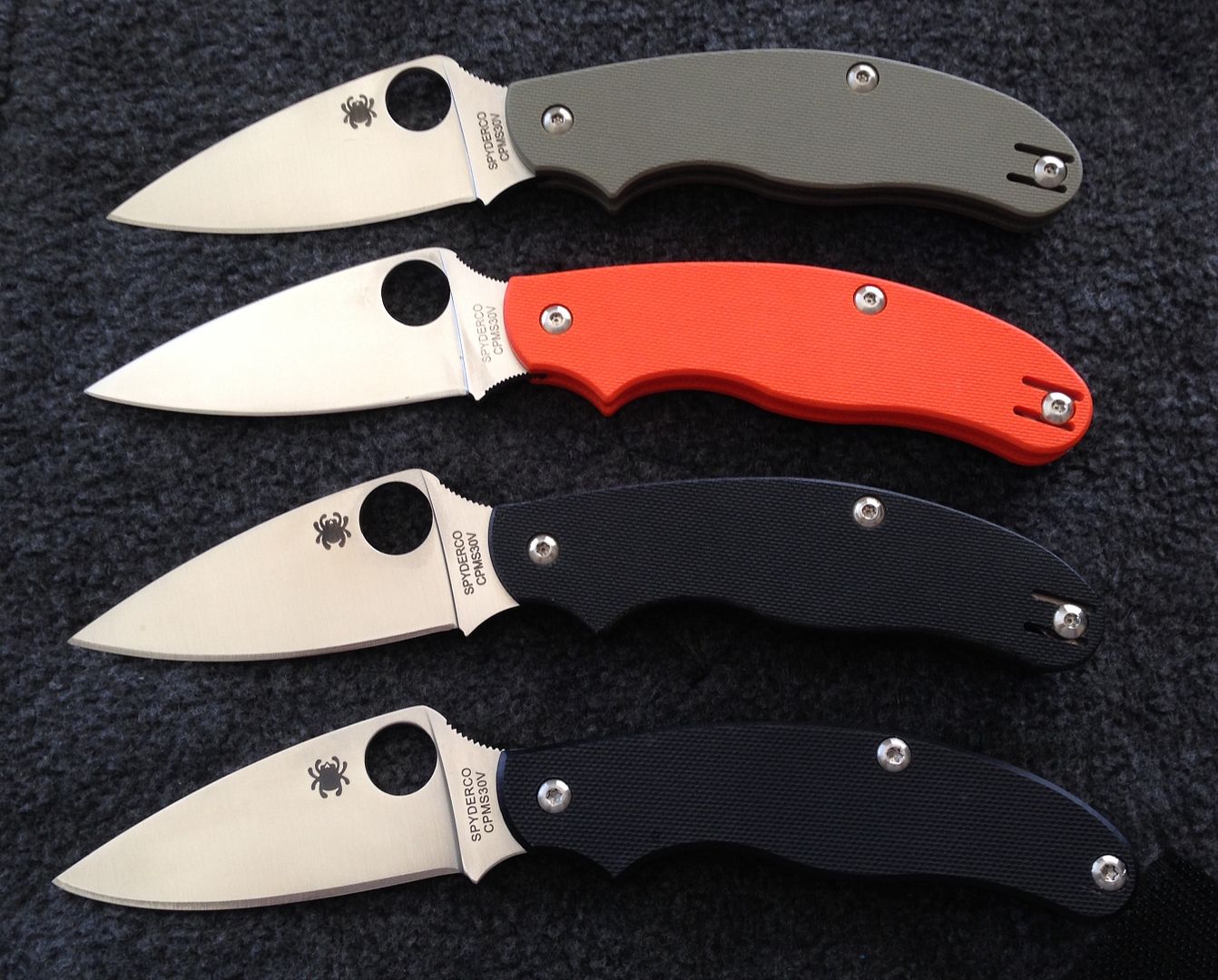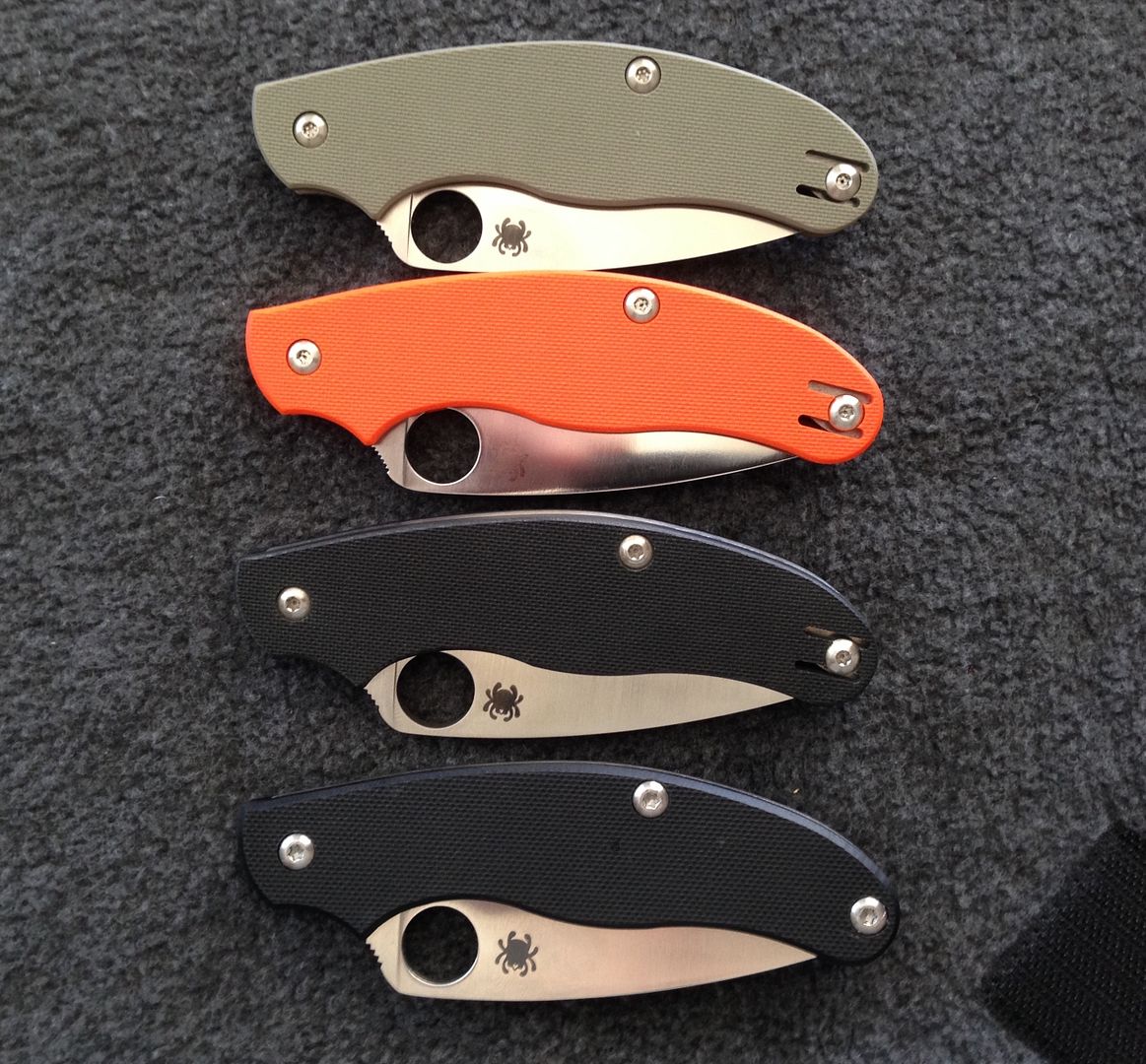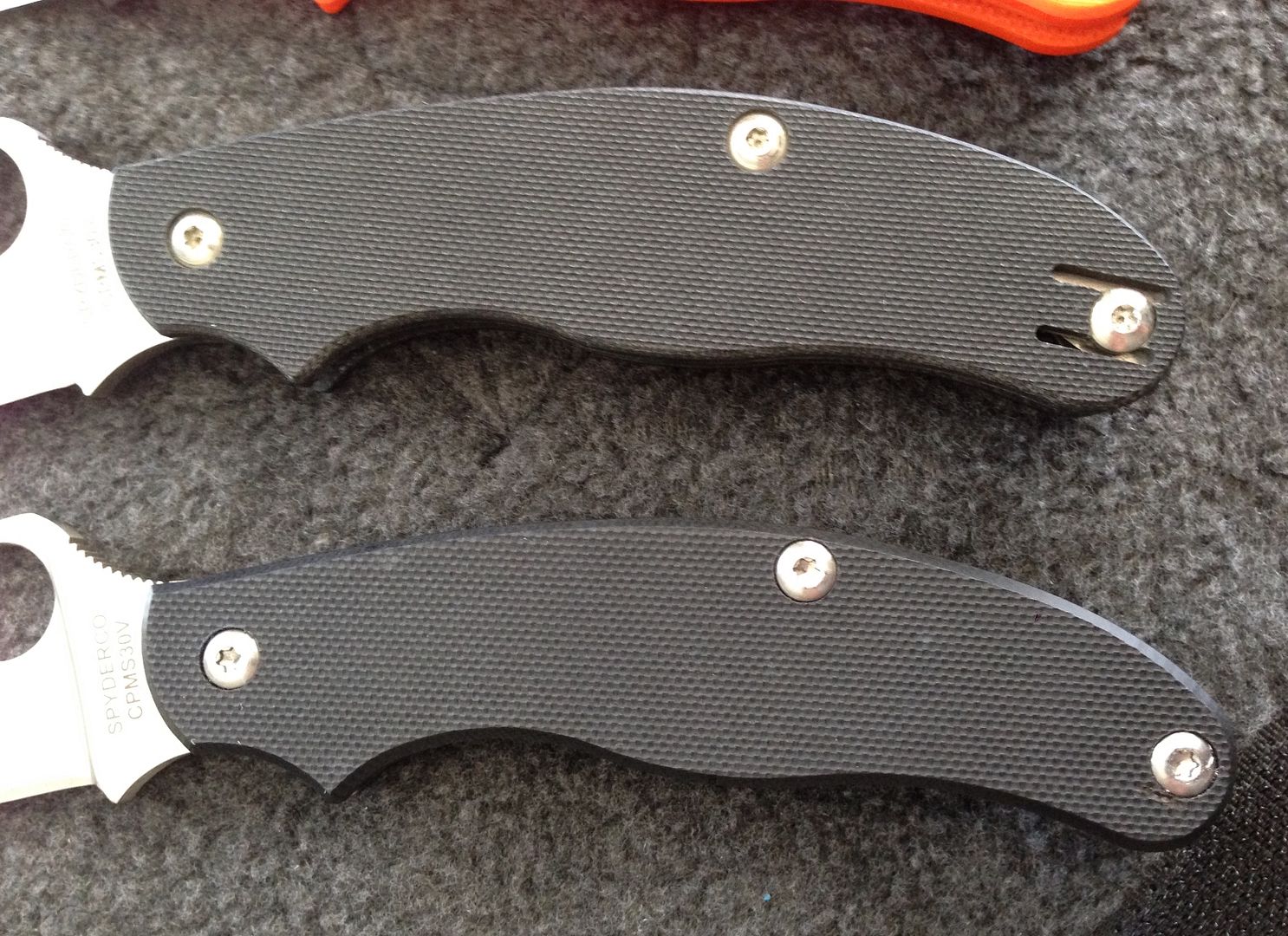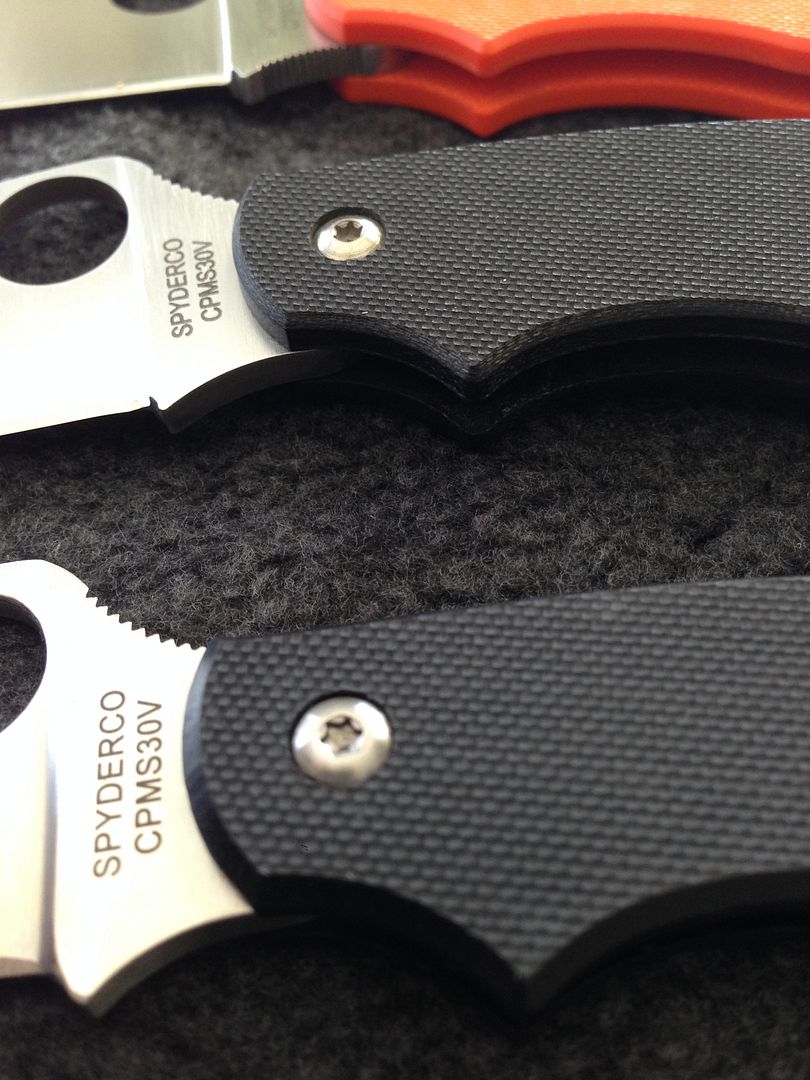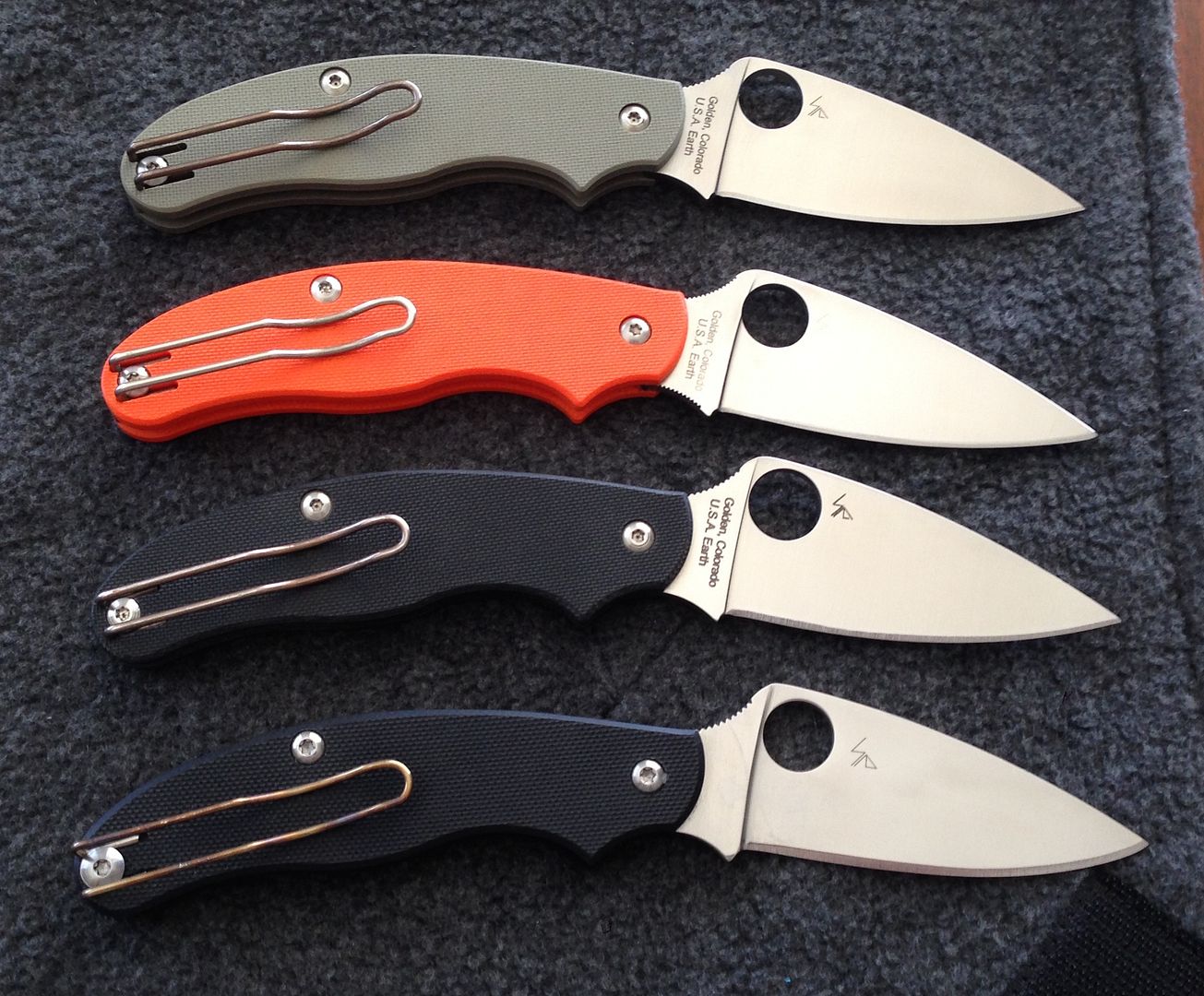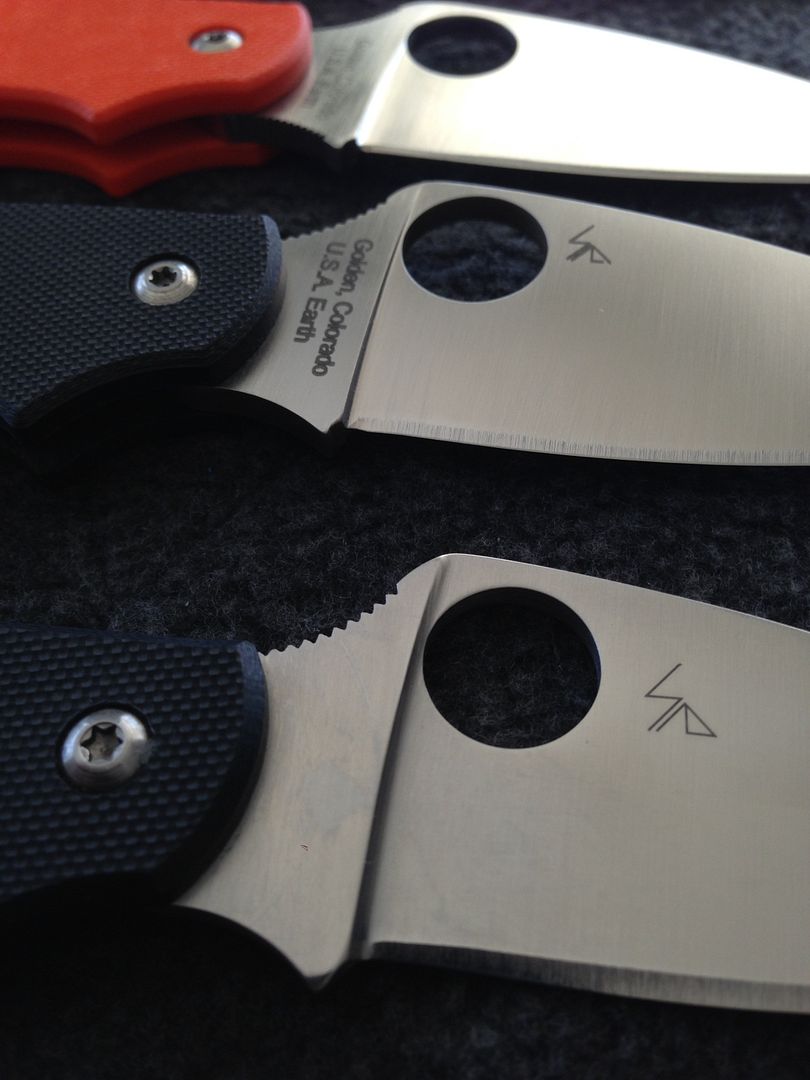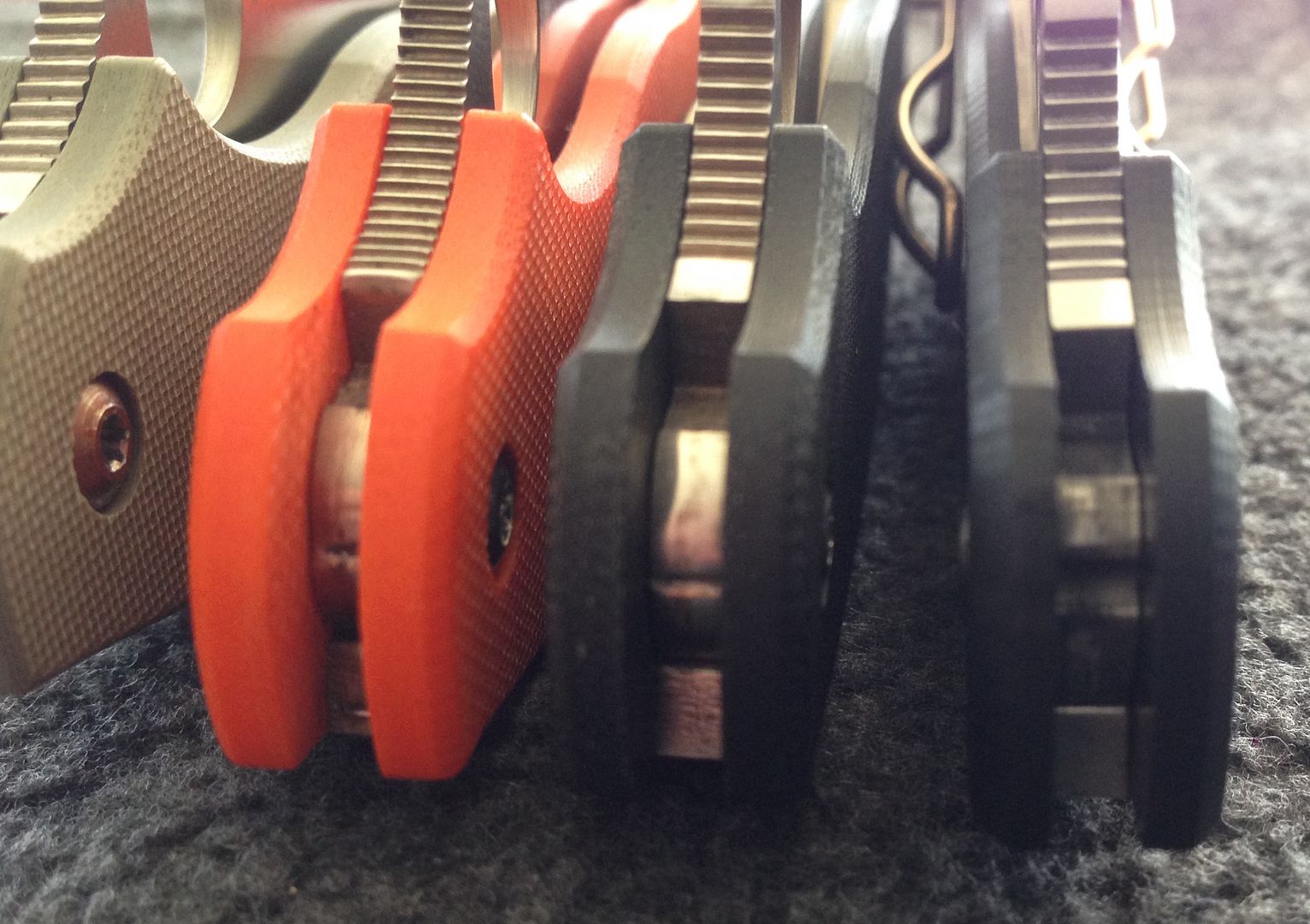 It's definitely lame that I'm out some decent change for this piece of junk. I'm sure all the eBay haters will say they told me so, but for buying the large amount of Spydies I have from reliable sellers on eBay, getting one lemon in 3 years is a level of risk I can deal with just fine. Many sellers have been top notch and very pleasant to deal with.
To Sal and company, I am more than happy to send this into Spyderco so they can have a look at it, and then hopefully destroy it! Cheers, Radioactive :)