Fairly small knife :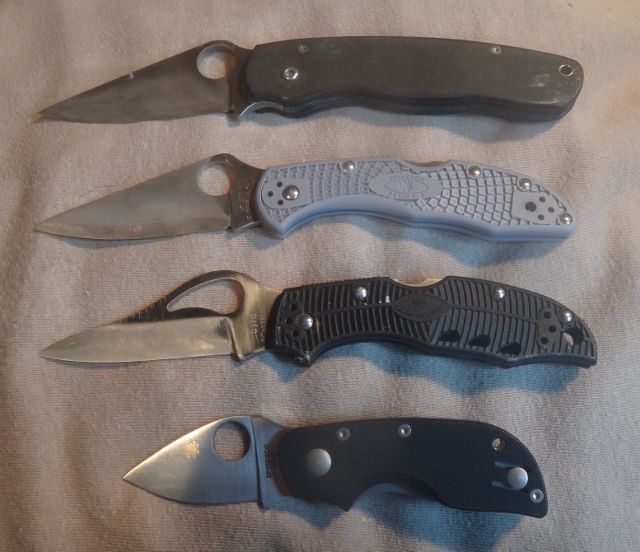 -Paramilitary
-SuperBlue Delica
-Meadowlark
-Chicago
Webpage :
http://www.spyderco.ca/catalog/details.php?product=670
-440C stainless steel, 0.102" stock, 0.092" choil, full distal taper
-60 grams, handle heavy (center of middle scallop)
-edge is 0.014"/12.5 dps at choil, increases to 22 dps in the tip
440C reference :
http://cartech.ides.com/datasheet.aspx?i=103&e=72
A few observations :
-no blade play
-slight movement of the clip
-all metal edges are well chamfered
-G10 is very nicely rounded
-liner has full engagement, secure under fast to moderate impacts
-clip is R/L, deep ride
F&F :
-in general high
-blade is off center
-plunge lines are not symmetrical
Sharpness :
-scrape shaves
-push cuts newsprint, 1/8" from PoH, rough
-175 (5) grams to push cut Espirit thread
-2.4 (2) cm to slice Bergia spinning thread (40 gram draw)
Those last two are under 50% of optimal on the push and 10% on the slice, the edge was likely over buffed.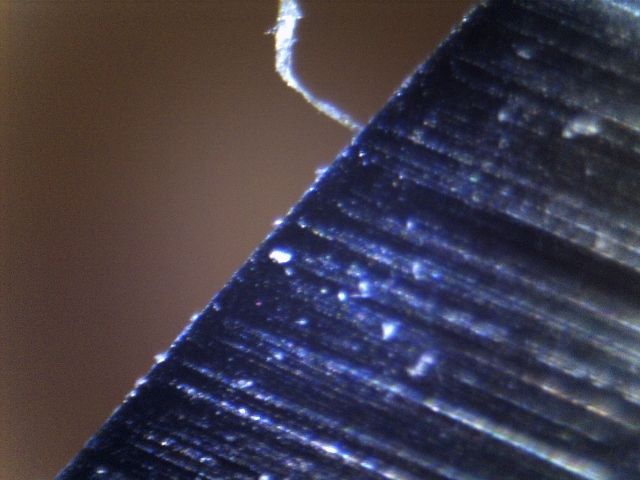 The very high polish (the black parts) indicates that, ideally you want the buffing to be very light (well ideally you don't want to do it at all).
On 3/8" hemp :
-44 (1) lbs on a push
-32 (1) lbs on a 2" draw
These are low numbers, mainly a sharpness issue. Note the draw should be at a minimum half of the push or else the edge was rounded.
On 3/4" x 1/2" pine making points with heavy force (50-70 lbs) :
-Mora #1260 = 1.1 (1) slices
-Chicago = 0.8 (1) slices
The Chicago is significantly higher which would be expected because on deep cuts the mechanical advantage of the deep primary grind will show its benefit. However on shallow cutting on harder wood with lighter force (10-20 lbs) :
-Mora #1260 = 75 (5) slices
-Chicago = 210 (1) slices
In shallow cutting is it all about the edge angle and sharpness and the Mora (as a stock knife) is 9-11 dps with a finish from a Spyderco fine stone (fairly high polish, almost ideal for wood working).
It is easy to just see the difference in the shavings/chips from each knife (Mora on the left, Chicago on the right).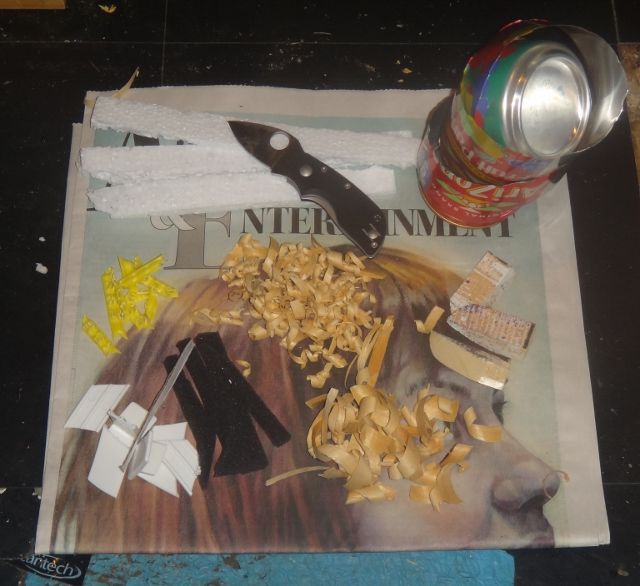 Easily cuts up a variety of materials :
-plastics
-tins
-foam
No edge damage. On the rigid foam there is some breaking, again a sign of the less than ideal sharpness.
Five hundred cuts into pine, no issues even cutting through some knots :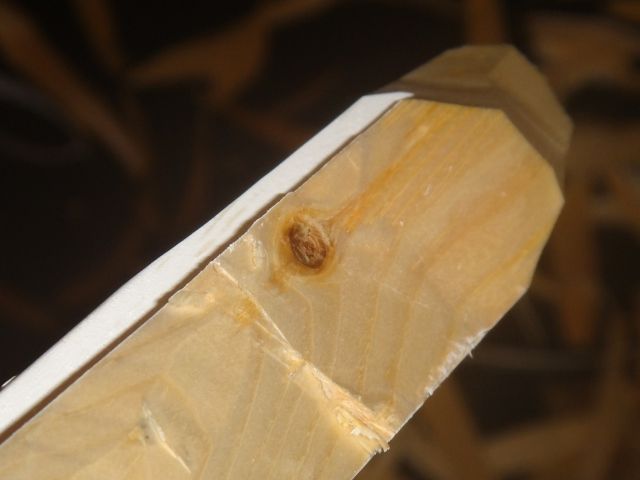 There were some minor ergonomic concerns :
The knife fits into my entire hand so the front of the clip and the base of the blade both hot spot a little, but not enough to make doing the 500 cuts an issue. In contrast for example a Leatherman Crater could not do 50 cuts without concern because it isn't chamfered.
Pointing plywood is no issue, 250 cuts :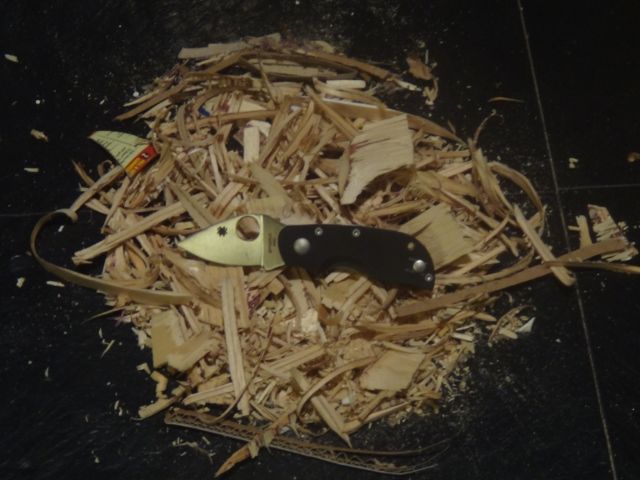 The edge is still slicing newsprint but is not scratchy and very short draws have to be used.
Now how scratched up the bevel is compared to the original state.
In short, seems to well match the description/promotion :
"Its leaf-like shaped blade effectively cuts across the board, from significant strenuous cuts like carpet and poly rope to something as simple as fingernail cleaning or scraping tape off of glass.
A deep pocket clip burrows the knife down into a pant's pocket with the tip facing up ready to carry left- or right-handed. This one is for Chicagoans or anyone looking for a city/suit knife."
The only real issues are :
-less than ideal as-boxed sharpness
-variance in edge angle would likely cause problems for some
Of course this doesn't indicate all of these knives will be like that, just this one was.
This should be a nice knife to carry and use which should be fairly friendly for even non-knife people.