Received a PM today that made me realize I had no photos of either my original "two screw" Worker, or of my Evolution Set. That, and a reply in another thread made me figure it might be good to take an post some.
The Worker was Spyderco's first knife, introduced in 1981. It introduced two new features to the knife world, the round hole opener and the pocket clip. The "Spyderhole" would come to be used on all Spyderco folders with the sole exception of the C27 Jess Horn* and the pocket clip would be used on most.
The very first Workers had a "two screw" clip. There may be more than one, slightly different version of the clip. After one or two batches, the "two screw" clip was replaced by the earliest example of the "three screw" variety that is still in use today, due to problems with it loosening and breaking. All of the two screw Wokers are plain edge. They have no lanyard hole and the perimeter of the handle is not beveled. Also unlike later versions, the swedge grind is sharpened.
The two screw clip was resurected in 1993 strictly for the Evolution Set. Like the original, it is plain edged, with no lanyard hole and no unbeveled handles. Blade and clip marking are very similar. The most visible difference is the thickness of the handle slabs. They are significantly thicker on the Evolution set version than thye were on the originals.
The other Worker in the Evolution Set is usually referred to as the "Zowada" Worker. Its main claim to fame is that it was the first, and until now the only, Spyderco with a damascus steel blade. The damascus for these knives was made by Tim Zowada. It also featured the Kraton inlaid that had just been introduced on the Pro-Venator and the Spyderedge, first introduced on the Mariner. Sal had feared that the combination of the very acute point, sharpened swedge, and serrations might be viewed as too agressive looking and turn people off.
Ok, enough "Edge-u-cation" for one day, on with the show!
The Evolution set and original two screw Worker...
[CENTER]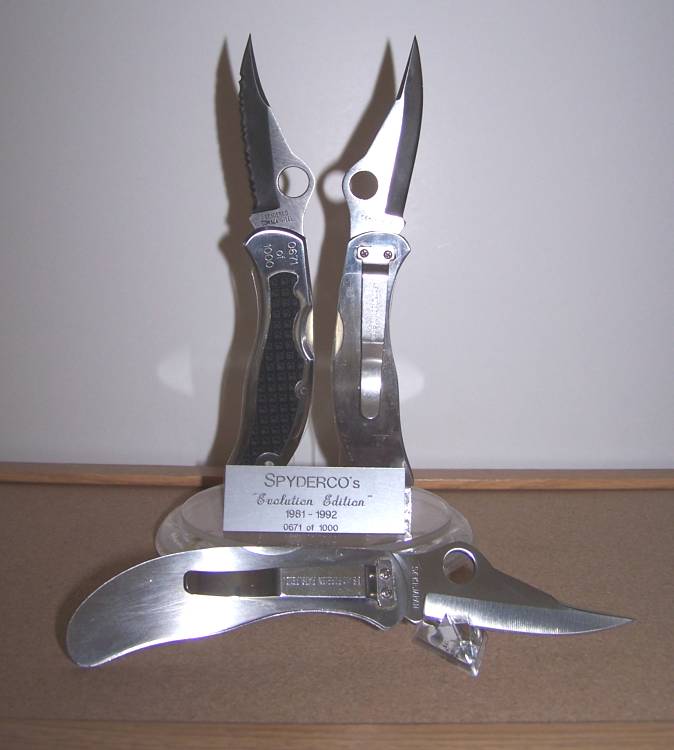 [/CENTER]
Aside from the Evo Set numbering, there's very little difference between the left sides...
[CENTER]
[/CENTER]
Minor differences in the clip, and in fonts can be seen on the right sides...
[CENTER]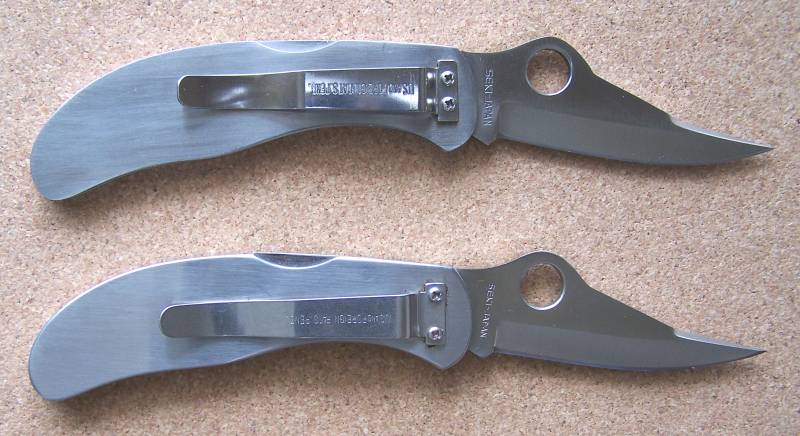 [/CENTER]
Considerable difference in thickness can be seen in this top down view...
[CENTER]

[/CENTER]
The Zowada...
[CENTER]

[/CENTER]
The clip also has a Kraton insert, like that of the Pro-Venator...
[CENTER]

[/CENTER]
Closeup of the blade, note the "Zowada Steel" marking...
[CENTER]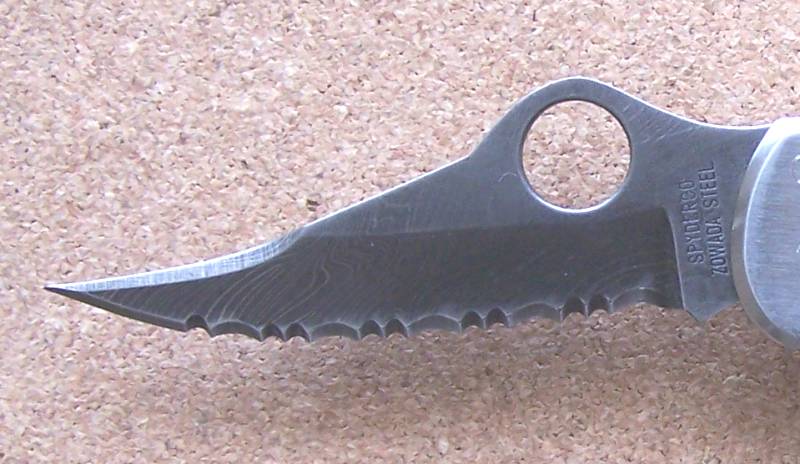 [/CENTER]
* Before anyone mentions the Laguiole, if you can show me one with SPYDERCO stamped on it, rather than RAMCO, I will recant.