I see people confused with this often, so here's a simple tutorial.
Go to
https://postimages.org/
with your browser. You do not need an account,that is 100% optional.
Click "choose images"
Browse for and select your photo. To upload multiples, tap and hold on one image, then you can select others.
It will now upload.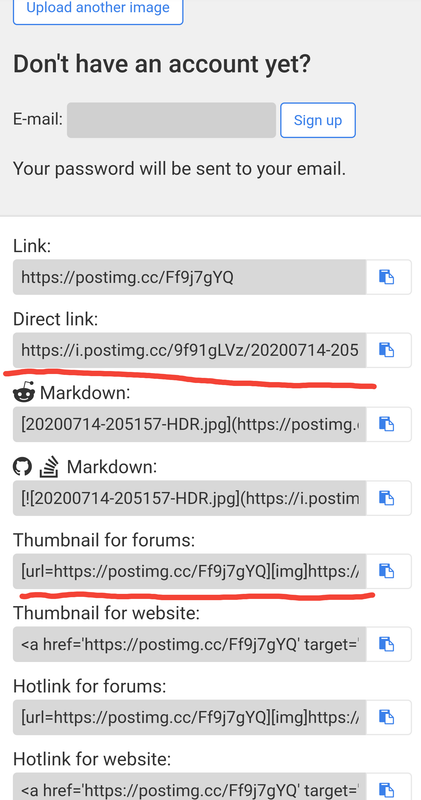 After it uploads you will be given codes. The codes let you share your image.
There are only two codes we need to pay attention to.
1. Direct link. This links directly to your image. If you simply copy and paste it will show up as a link, like this
https://i.postimg.cc/MHLQS8mw/Capture-2 ... -56-49.png
Now by using the image code brackets on the forum, we can transform the link into an embedded image:
Code: Select all
[img]https://i.postimg.cc/MHLQS8mw/Capture-2020-07-15-16-56-49.png[/img]
Using these IMG tags is how I posted the image above.
2. Alternatively, copy and paste the "thumbnail for forums" code and it will already have the image code information included.
However, these pictures tend to be smaller than using direct links, and when clicked take you to a different website, so I always recommend method #1 with direct links.
Example of using method #2: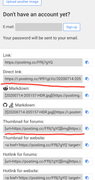 Quoting this post will show you all the code used.
Using this method you will never have to resize your photos to share them here.
Here's a video of the process:
https://streamable.com/bigncq