Edit : After the great Photobucket mess I lost the photos in this post. I did find one of them today on an old hard drive while looking for something else - 1 photo is better than none.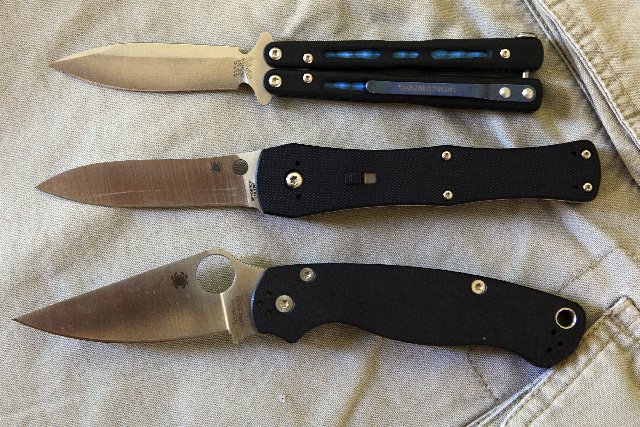 I picked up a Janisong when I was in South Africa last week (thank you to all the gents at Sharp Edge for getting it before I flew out again). I don't usually do reviews as there are others that are more qualified to do them but I thought that given that this model isn't available in the US, I'd post a few comments and photos.
Janisong size comparison to PM2 and a Benchmade 32
Handle thickness vs a PM2
First Impressions : Whilst it is probably the size I was expecting, it is fairly chunky and heavy. It is immaculately assembled and looks and feels like a quality piece of cutlery. There are a lot of stainless liner edges and I've not felt any burrs or sharp edges. The G10 is almost smooth, possibly the smoothest peel ply I have on a Spyderco – personally, I like that as I prefer the handle shape to provide grip and I don't want to rely on the handle finish for traction. The jimping is more decorative than functional and once again, I prefer this to aggressive jimping. There is really nice detail design of the lock interface and the stand offs on the liners – I'm impressed by the engineering!
The action is very fluid but there is downside to that – the pivot bolt isn't snug and as a result the knife rattles a bit when in the closed and locked position as the bite or internal handle has a bit of play and knocks against the liners of the external handle. I'm not a great bali flipper so I'm not going to comment on how well it does tricks but I'd think from the Mike Janish videos, it will satisfy the flipper crowd.
Open, there is blade play until the lock is engaged, then it is solid as a rock with no discernible blade play in any direction. The blade itself has a very slight recurve, I'm not sure if this is by design or as a result of the sharpening. Visually, I like the blade shape and it is, for my tasks very functional. I still have the factory edge on it which was more than adequate out of the box. I've had issues with inconsistent grinds on Taichung knives before and we'll see how this one stacks up once I sharpen it.
In use the knife carries well for a knife weighing 5.5 oz / 156g (50% heavier than the PM2 and almost 20g heavier than the Starmate). I really like the design of the deep carry pocket clip but personally feel the execution isn't great as the clearance between the clip and the scale is, in my opinion, insufficient. Its tapped for left / right and tip up / down carry but tip down, the clip will obscure the lock switch that I am finding works best actuated from both sides using thumb and forefinger.
In pocket, these shorts don't have that thick a seam but it jams up in the clip
Cutting stuff the handle doesn't have hotspots and is very comfortable in a variety of grips and will probably suit all hand sizes. It hasn't worked hard but has done some food prep (more on that in a moment) which it did very adequately given the geometry isn't optimal slicer, it's done some whittling, cut up some PET bottles, opened post and packages and just for fun, broken down some cardboard boxes. It does what it can be expected to do very well given the 3mm blade stock and the fairly steep grind – it will probably excel at harder work than what I have put it to.
By the very nature of the design, there is, in my mind, a lot of places for pocket lint, food scraps and gunk to accumulate. It has a flow through handle but I fear with two sets of liners (one of them moving and exposed when opening and closing) and pretty tight tolerances that sticky or oily gunk could accumulate unless it is cleaned with high pressure. The lock mechanism, I suspect, runs in slots between the liner and the G10 of the outer handle – I'm not sure I'd want that in dirty and grimy conditions.
As an EDC, its heavier than I'd normally carry but it will probably drop into the rotation every now and then, probably more often than my other balisongs because it is such a visually impressive and well engineered tool. I'd have, as I mentioned above, concerns if there was a higher than average chance of getting gunk between the liners, etc., I'd stick to something else if the knife was going to get muddy or bloody and there wasn't the facility to clean it fairly soon after. As part of a collection, I am delighted to have it, it is well made, fun to fidget with in front of the TV and pretty unique. It really is an engineering piece of art.