As some of you know, about a week ago, I purchased a Sandrin Knives Torino.
Sandrin is an Italian knife company that makes knives (fixed and folding) with tungsten carbide blades.
Tungsten carbide is extremely hard, much harder than steel, and harder even than most carbides. For more information about Sandrin's tungsten carbide, check out Larrin's excellent article:
https://knifesteelnerds.com/2019/11/18/ ... hat-is-it/
This is a very exotic material, at least for use in pocket knives, and since it's so hard and difficult to work with, it's quite rare in cutlery. It's also pretty expensive as you can imagine. A Sandrin fixed blade might be a couple thousand dollars. Their high-end slip-joint collection knives are around $300+.
Unfortunately, there's not a huge amount of information out there on how tungsten carbide knife blades behave and hold up to regular EDC use; so I thought I'd put together a sort of on-going EDC review of my knife and report my experiences for those interested.
The Torino is an attempt by Sandrin to produce a more mainstream, EDC-friendly folding knife.
The presentation is quite nice, with a magnetic closure box inside a slip, microfiber cloth, and authenticity card:
As with all Sandrin folding knives, the blade stock is extremely thin (0.050") and has what you might call a very low hollow grind. No FFG for tungsten carbide!
The factory edge was super sharp - easily as sharp as any Spyderco, and better than some. Popped arm hair and sliced phonebook paper no problem.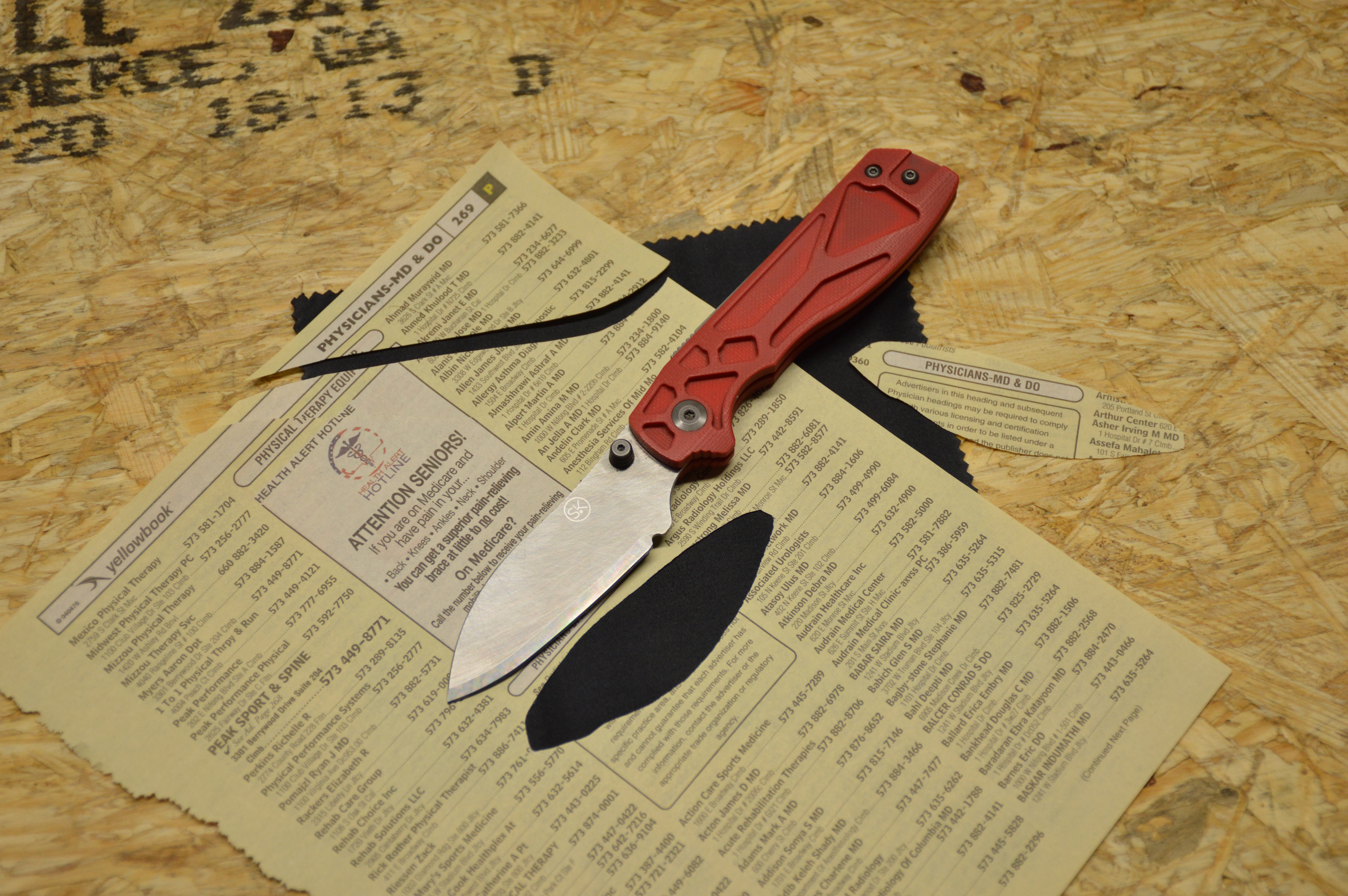 (and this photo was taken after some use.)
The blade finish has been controversial. It is sort of a random, sanded finish with scratch marks going every which way. The surface itself is smooth, though, similar to a stonewash in feel. Sandrin calls it their "Raw carbide" finish. It's probably a good way to cut down on cost since I can't imagine how difficult it must be to grind this stuff. (And most of Sandrin's other knives come with a mirror polish!
) Personally, I don't have a problem with the look, especially if it's saving me $100.
Now I don't like that they seemed to have skimped a bit on finishing the moving surfaces, plus the top edge of the blade is a little rough and un-finished looking. It's hard to capture in a photo, but pretty obvious to the eye: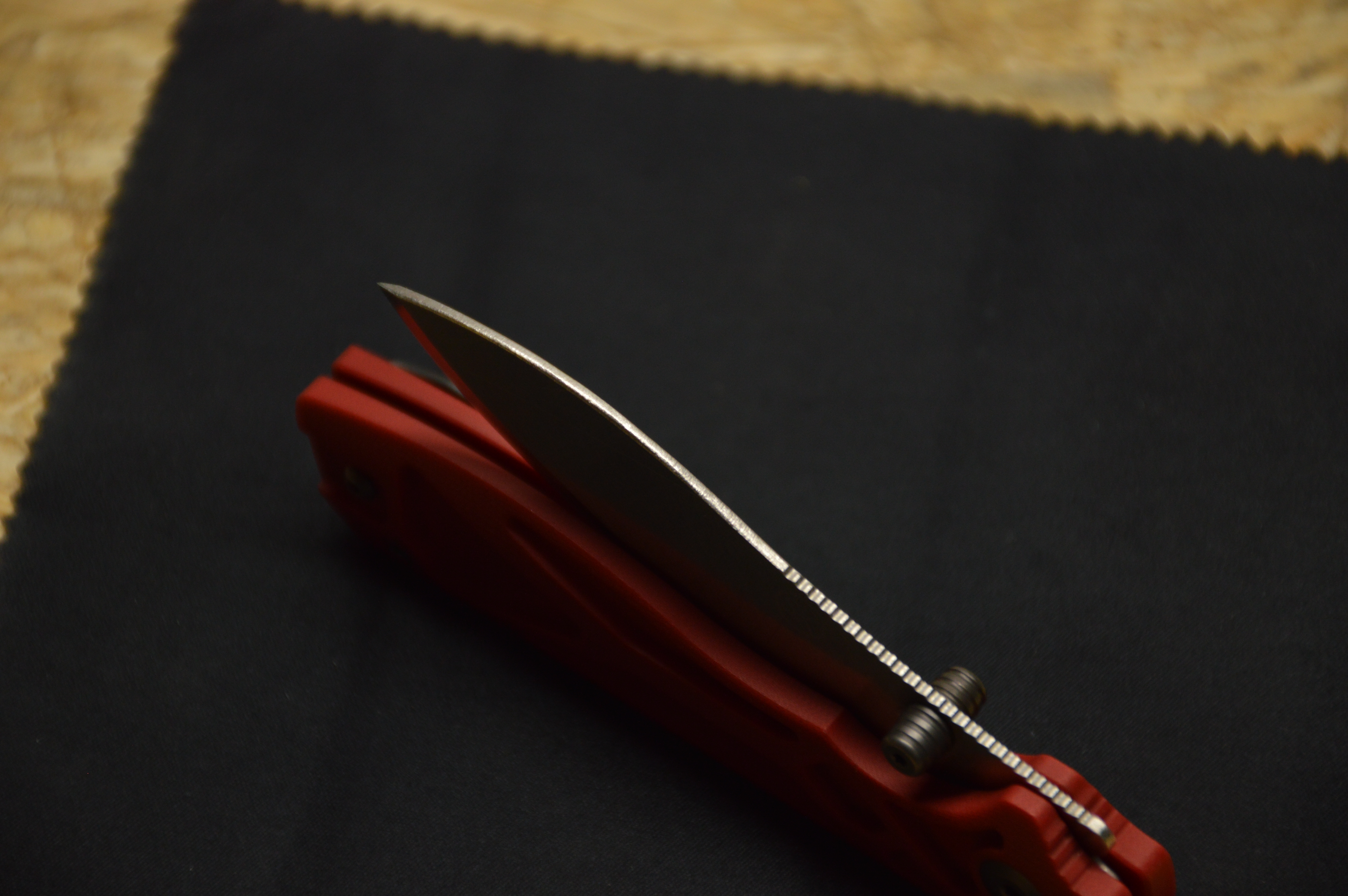 The lockbar/blade tang interface is just a tad rough, enough to feel but not enough to really interfere with the action. Oh well. I can live with it.
The pivot runs on captured ceramic bearings. The bearings themselves are sandwiched between the blade and thick steel? washers inset into the G10 handle. I've had mine apart already. It's super smooth to operate and the blade swings freely while at the same time having zero side-to side-play. I mean zero. It's pretty cool, and a nice touch, I think, from Sandrin.
The lock is unique. It's somewhat similar in concept to the ball bearing lock, in that it wedges a bar in between the tang and stop pin. So you get no vertical play or "lock rock" either. To disengage, you pull the (slightly protruding) lockbar straight back. It is jimped to aid in this purpose.
I usually disengage by pulling the lockbar back with the pad of my thumb and letting the blade drop onto my index finger.
This requires two movements though to close, so sometimes I instead use my index fingernail to pull the bar back and let the blade swing completely shut in one motion.
(Usually my grip in this position is much more secure; I'm holding it this way for the camera.)
I like the G10 handles. They are actually pretty thick, but contoured, so you get lots of strength and rigidity with ergonomic comfort. I'm ambivalent about the red color. I wear size XL gloves and my hand has plenty of room:
The clip is nice, PVD coated titanium.
Retention is fairly light. It also flexes somewhat in a tight grip. But it does the job fine, is smooth in and out of the pocket, and hasn't caused any issues with catching or snagging yet. The Fibonacci number pattern is a cool touch IMO. It carries pretty deep too for what that's worth:
Overall I like this knife.
NOW, for use.
My EDC uses are pretty light these days. I have been carrying this as my primary cutting tool, with a backup folder/fixed blade for the harder-use stuff. Over the past week or so, I have used the Torino to cut say 20' worth of single-ply cardboard, cutting a thick plastic drop cloth in half, opening a few boxes, cutting the tip off a caulk tube, shrink wrap, food prep, and maybe a few other things. I have detected no discernable loss in sharpness. It still bites and catches the hair on the back of my head when laid lightly against it, shaves and slices phonebook paper no problem. No chips.
The food prep was mostly cutting up a number of citrus fruits to make juice. 3 lemons, 3 oranges, and 5 or 6 limes. The sharp edge and thin blade made for delightful cutting. I noticed the blade seemed to patina quickly when cutting the fruit, but it wiped clean with some water.
I'll continue to post as I use this knife. I'm looking forward to seeing how sharpening goes, when I get there.