Hi All, Just want to share a bit of good fortune with you while I was at the Blade Show.
I've never mentioned it, but I've been after a Rick Hinderer XM-18 for quite a while. Finding them is a rarity ...not impossible, but a rarity with second market price.
While at Blade and helping out my Brazilian Buddy Gus of GTC Knives, I went walking about and came across the Hinderer booth and noticed they were having a lottery to buy one of his knives that Friday at 4:00pm. I said what the heck and grabbed one of the last 3 cards of a deck. BTW, the lottery goes by picking one half of a playing card from a deck or two (in this case two seperate decks, blue and red) ...grab a card, rip it in a half, keep one half, and put the other in a basket to hopefully be drawn.
Anyway, I continue to walk about and made it back to the booth to a CROWD of people. Just to see how desperate some folks get for his folders ...Rick announced that a T-Shirt would be auctioned off and the winner would get the T-Shirt plus a pick of any of his knives that he had displaying. Well, the winning bid for T-Shirt went for $1200
!!! Rick started picking numbers from the basket and just as I was thinking to myself "I Don't Have A Chance" and about ready to walk off , when ...."Blue 7 of Spades" fills the air. I look at my half of the card and raised my hand ..."Blue 7 of Spades right here"
!!!
I walked over to the display case and and nabbed this little beauty ...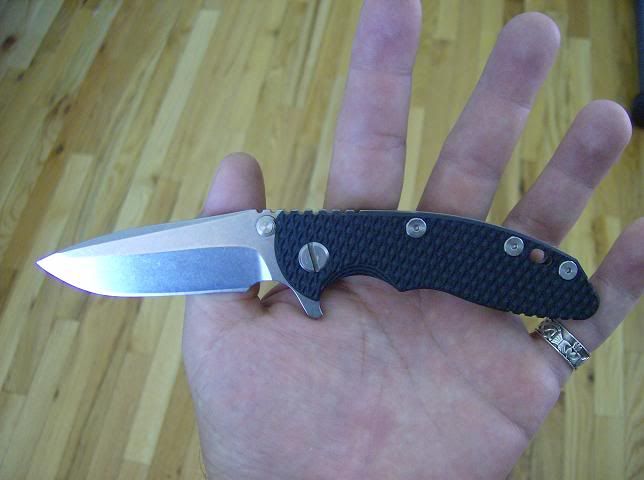 Happy little camper here to finally... FINALLY get a folder that's been evading me for so long
. Just thought I'd share ... Take Very Good Care and Be Safe Always.
God Bless
-raven-