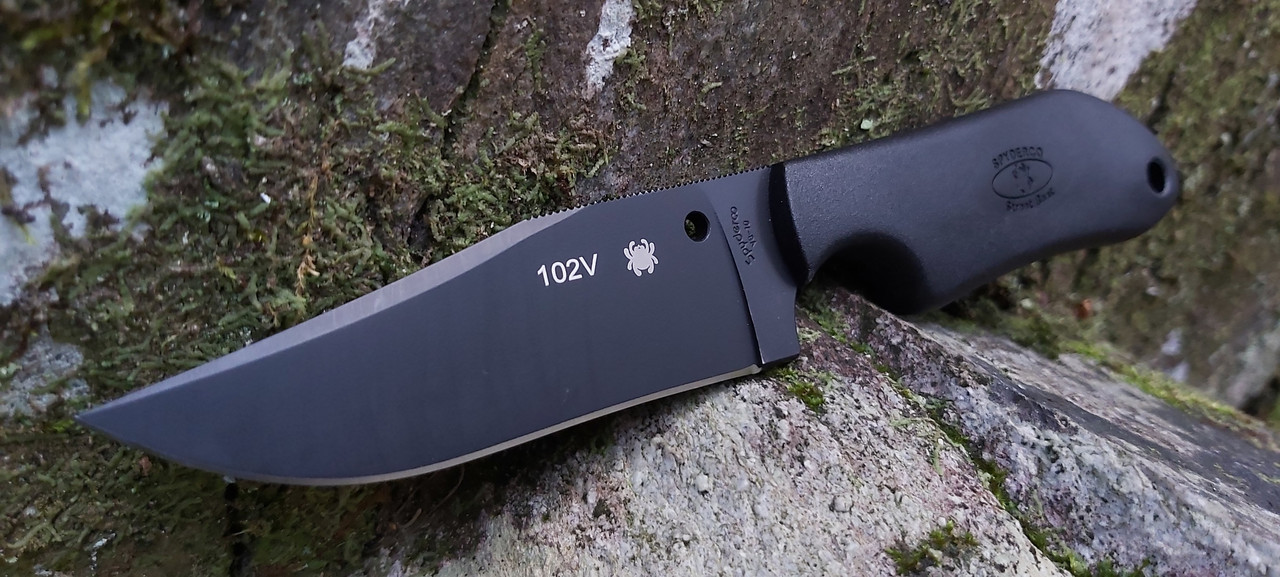 The Spyderco Street Beat is a collaboration with French knife maker Fred Perrin. It is a scaled down version of the 5" blade Spyderco Street Bowie (FB04).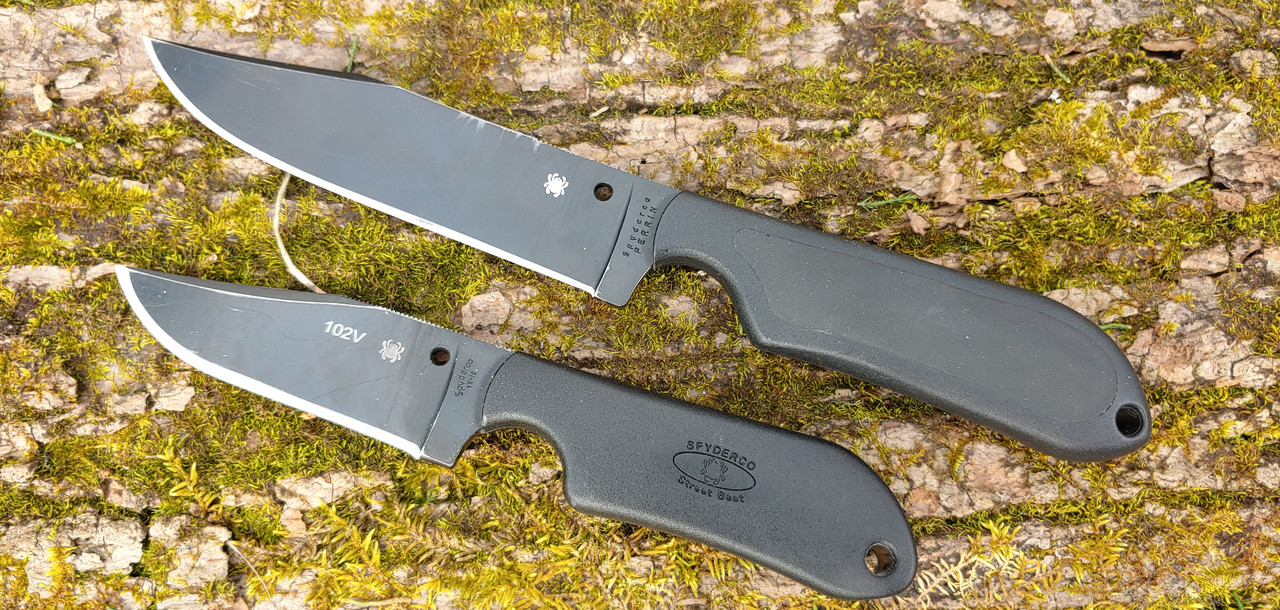 The Street Beat has been in Spydercos line-up for nearly 15 years, originally releasing in 2007.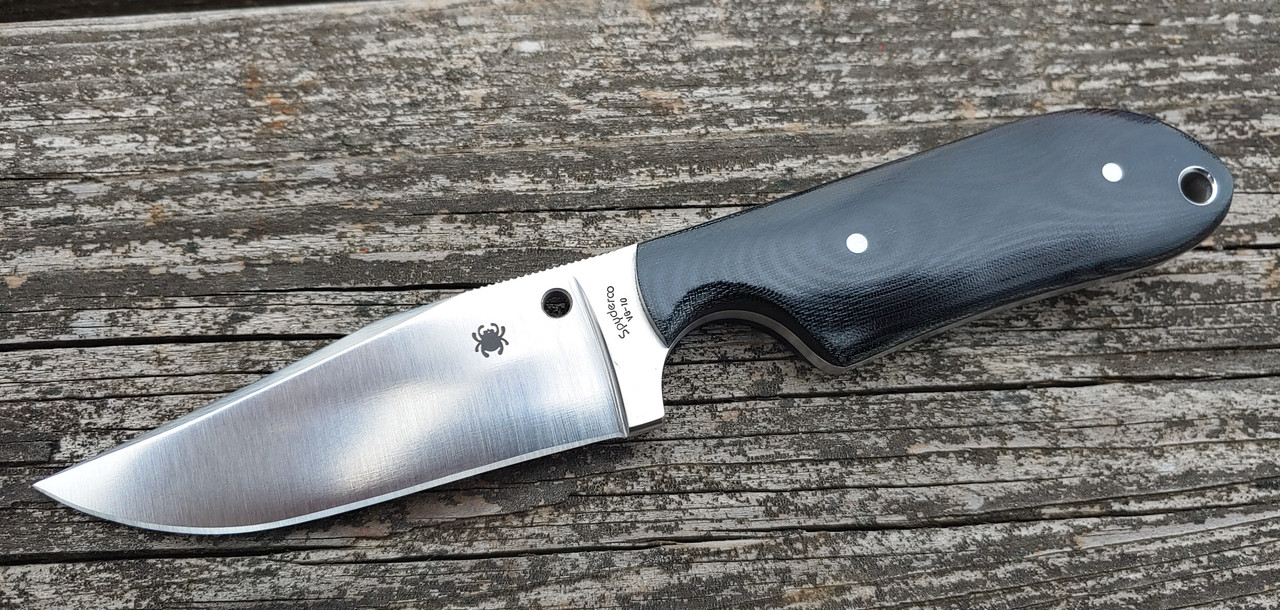 The initial run was known for a distinctive contoured micarta handle and beautiful satin finish blade.
The current lightweight version of the Street Beat began production in 2016. The lightweight features FRN scales, a coated blade, and a few other minor changes.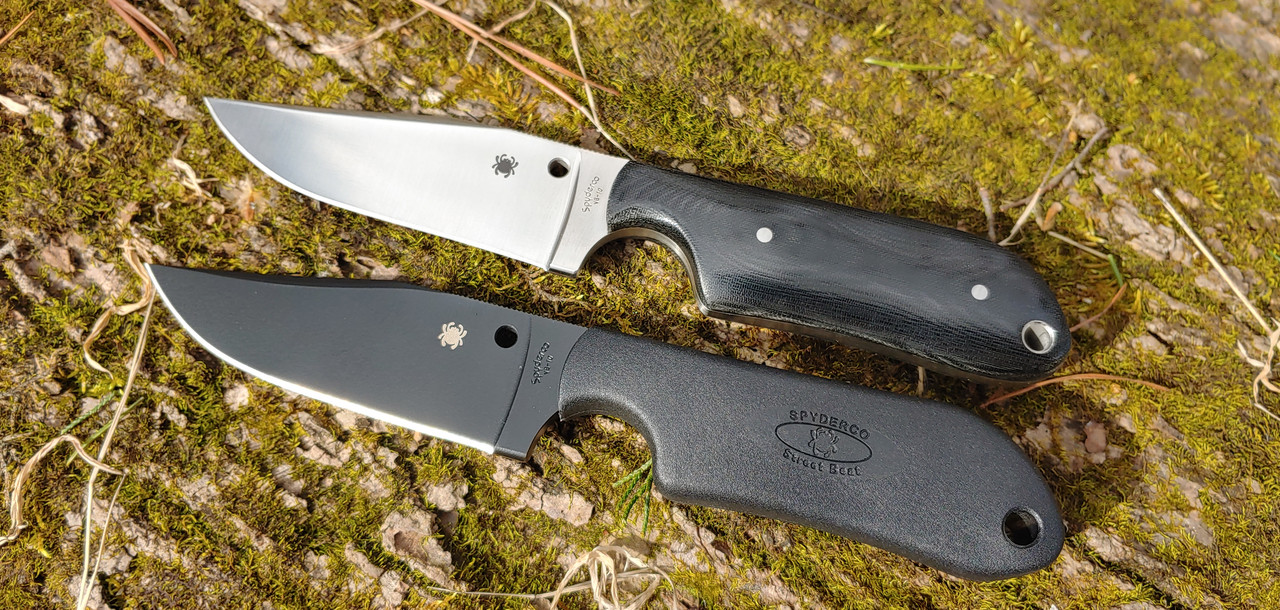 The Street Beat is a small knife at 7.18" overall, just a hair longer than a Delica.
It is also very lightweight. The current version weighs about 3oz, or 4.2oz with the sheath as configured from factory. This is less weight than a Military or g10 Manix.
The bowie shaped blade is 3.5" long, 4mm thick, and full flat ground, constructed from VG10.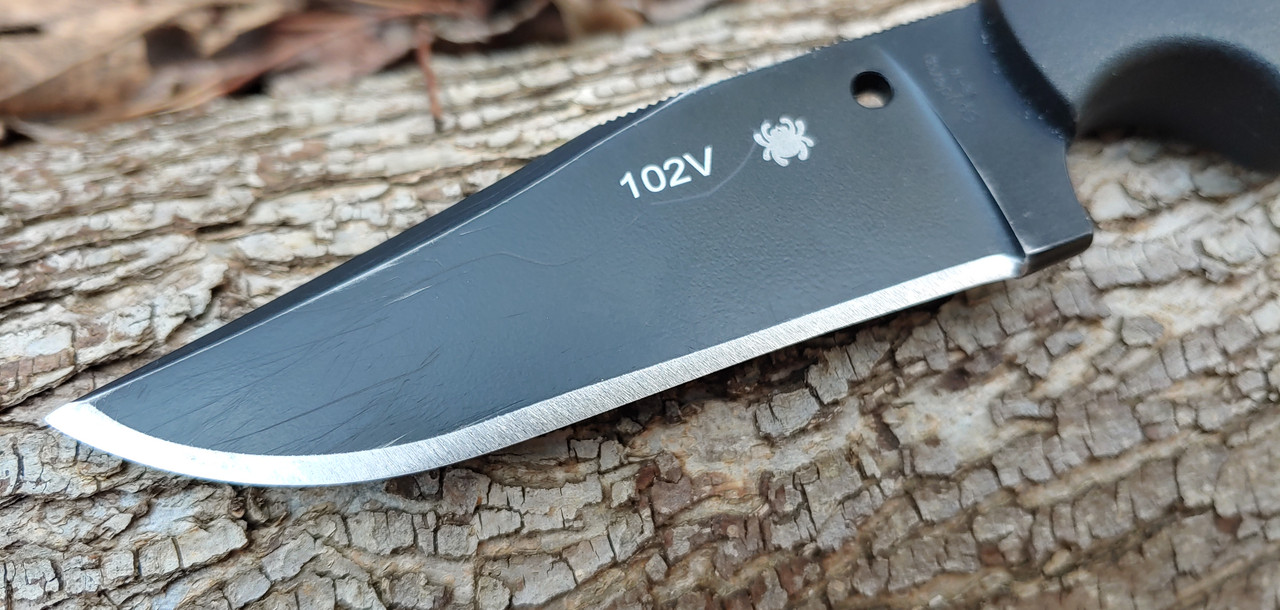 The blade features a partial distal taper, beginning where the swedge starts, giving it excellent penetrative abilities.
The blade shape is suitable for a wide range of applications, such as EDC, hunting, camping and hiking, and defensive carry.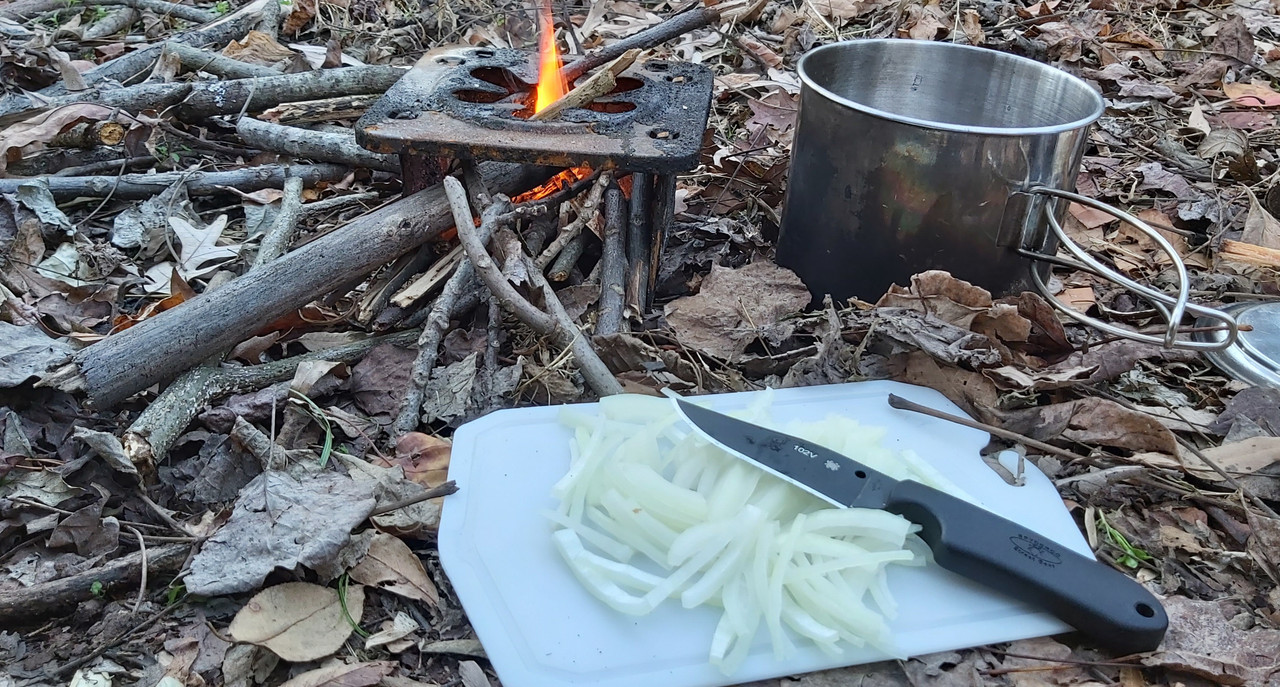 VG10's performance is well known by this point. It is highly corrosion resistant, very easy to sharpen, holds an edge okay and is pretty tough for stainless.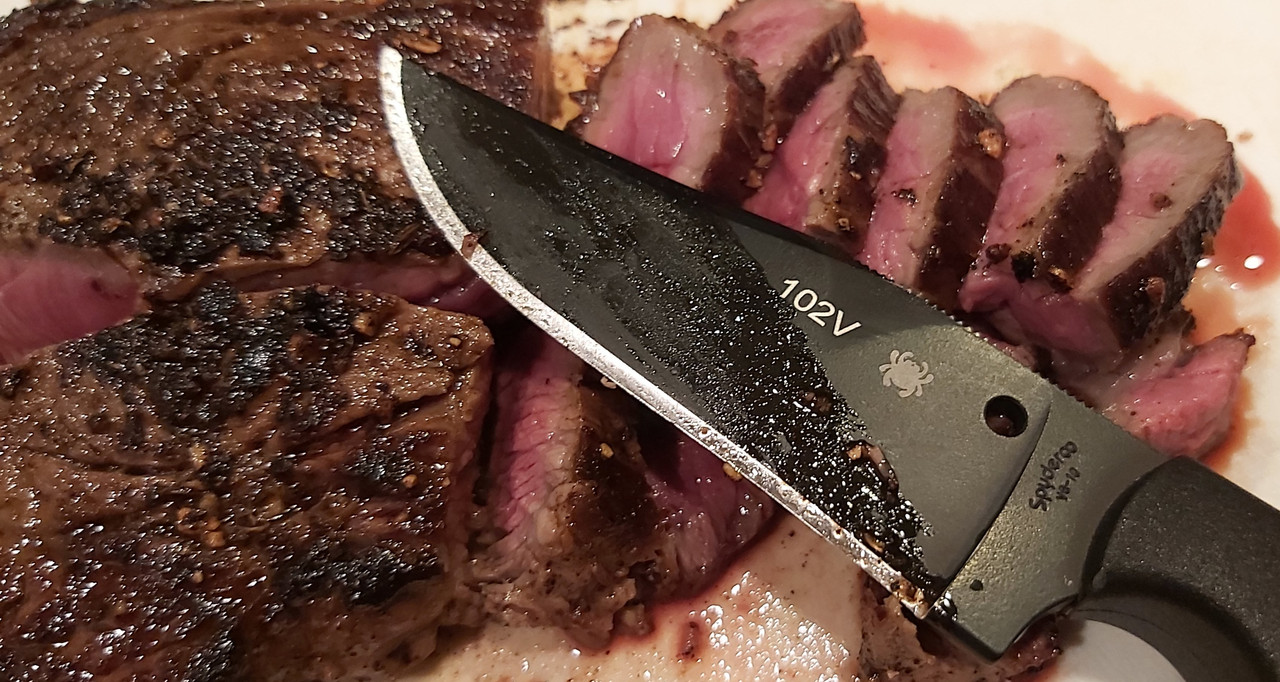 My user is reground to about 9 degrees per side and given a 15 degree per side microbevel and it has no issues batoning fatwood. With the factory bevel the Street Beat is a robust little knife.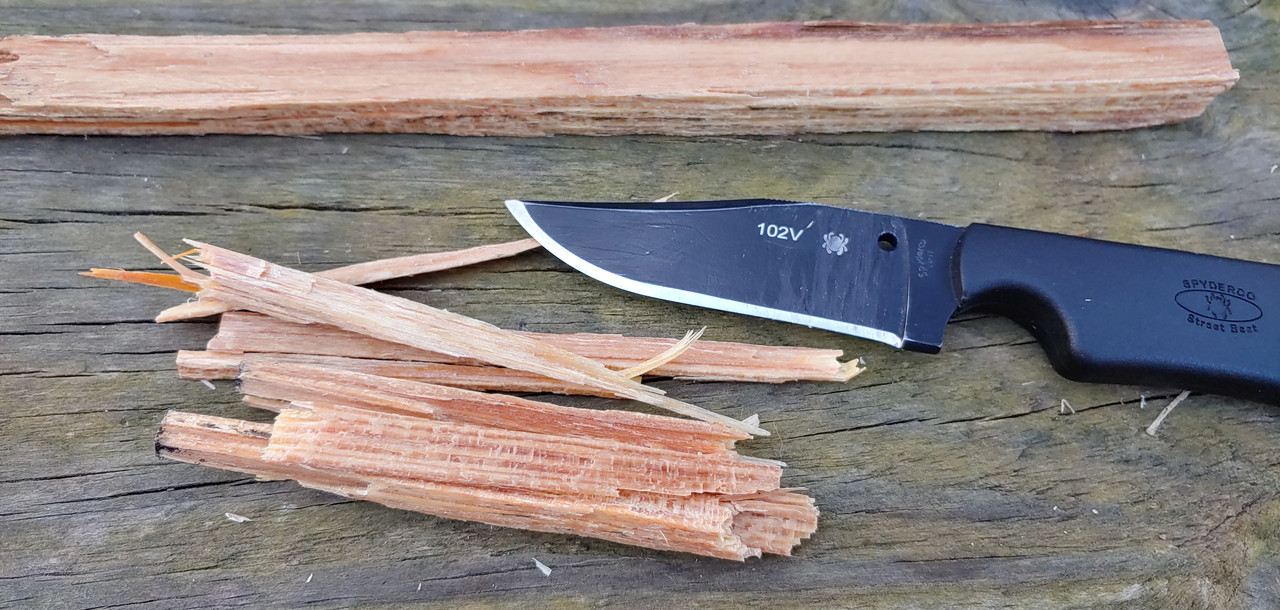 Here's a video where I talk a little about the knife and how I sharpen it, then show it cutting various materials:
https://youtube.com/watch?v=qaOt85ONLGQ
Although VG10 is sufficient for day to day use, I would like to see this design run in a more wear resistant steel. After using K390 in the Police, I feel that would be a good candidate.
The spine of the blade has a large patch of aggressive jimping to aid grip. The lightweight version has jimping down the handle as well.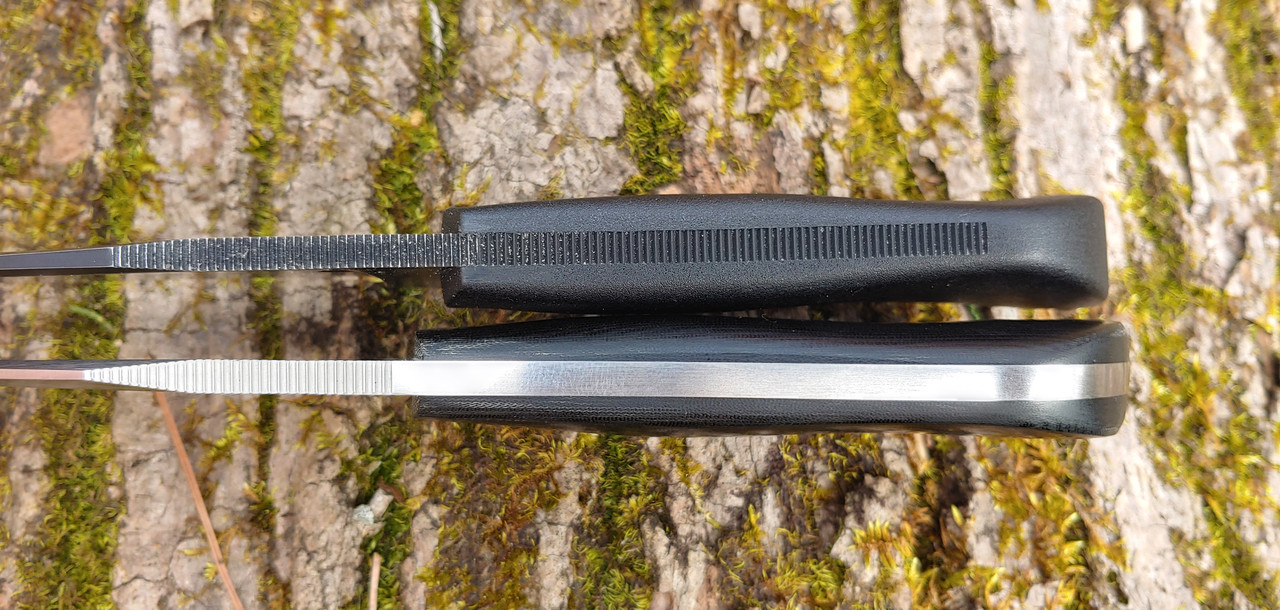 It works well to secure the thumb when gripped with it on the spine.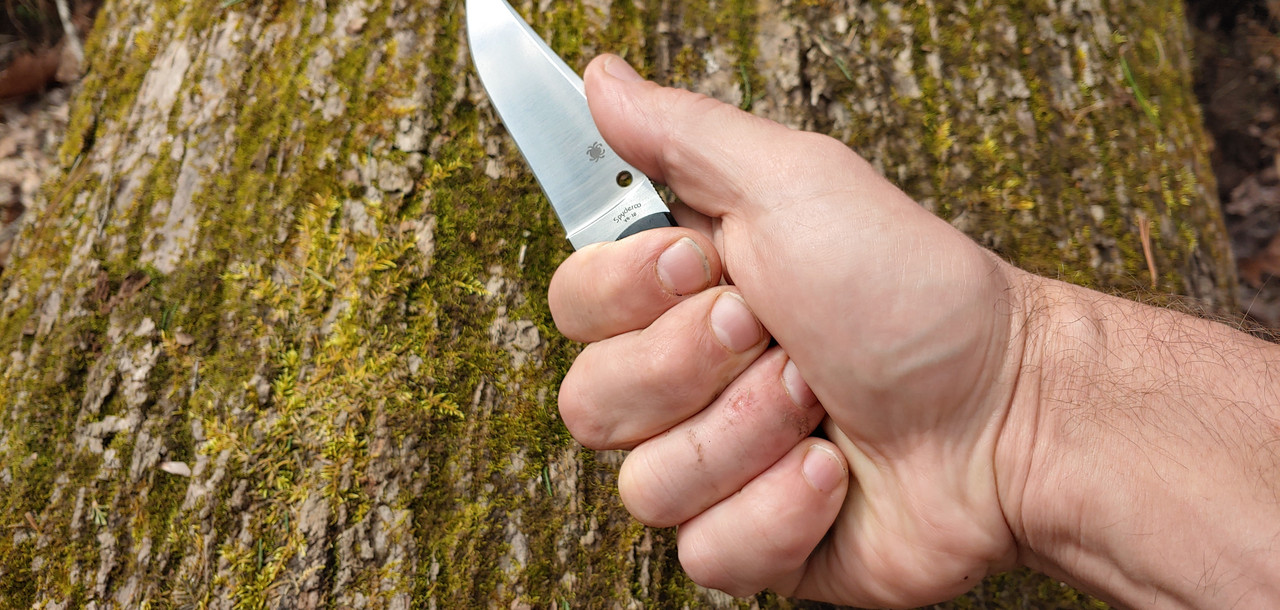 Despite the petite dimensions, the grip is still large enough for any hand size.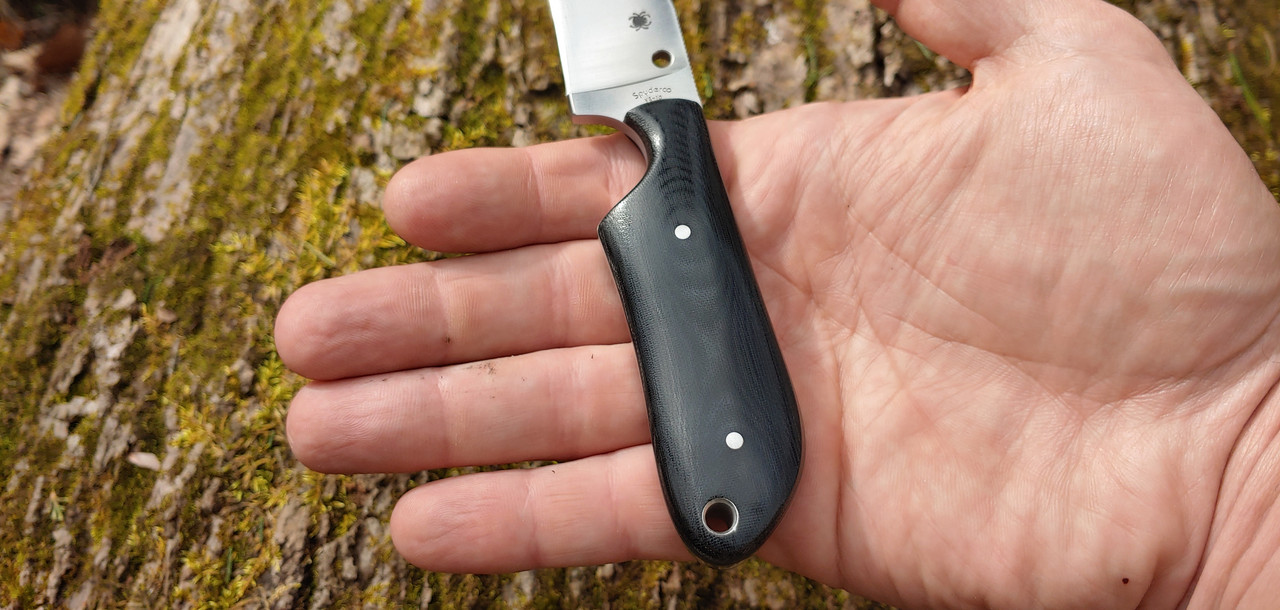 My hands are XL-XXL and I can get a full, secure grip with gloves on.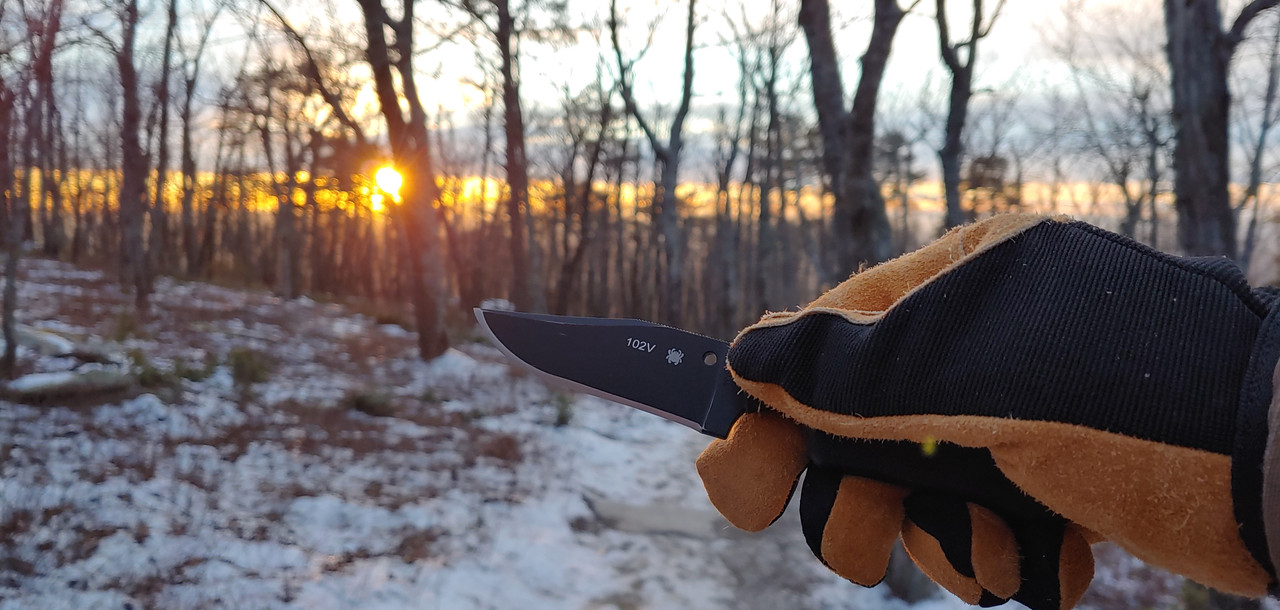 The most distinctive feature of the handle is the deep index finger groove.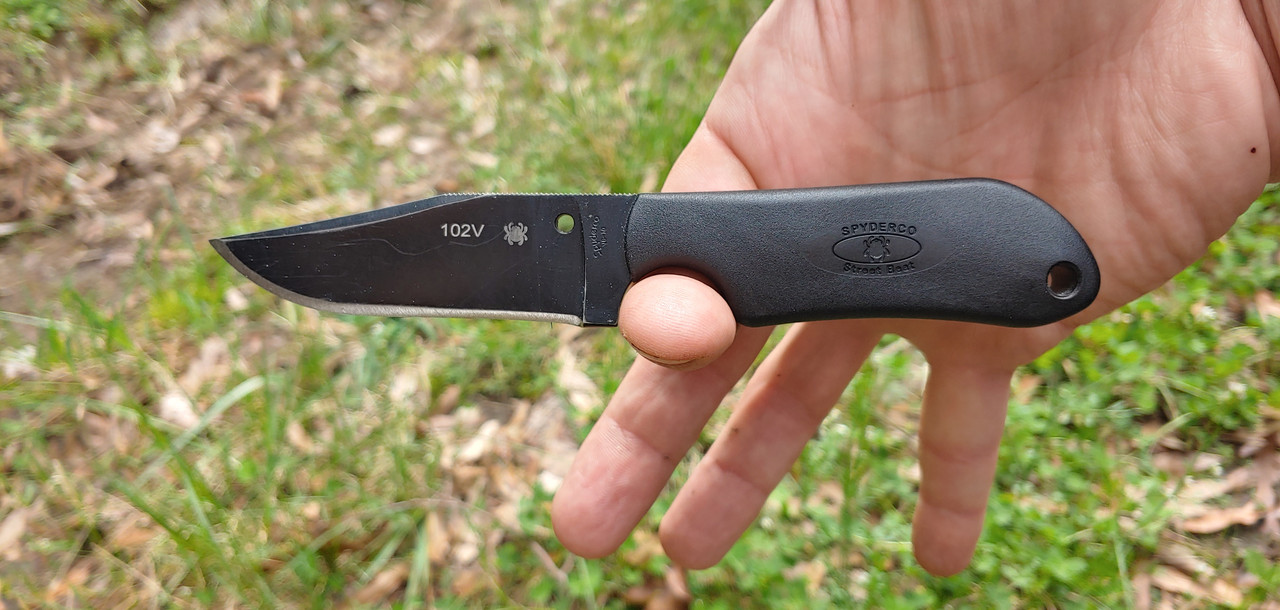 The knife is perfectly balanced at the index finger. On either side of the choil are near proportional amounts of blade & handle.
The deep choil streamlines the guard by integrating it into the grip. It provides a sure grip whether stabbing or slicing, keeping the hand from the edge. It works comfortably in every grip.
The choil is fully exposed while the knife is sheathed, providing an intuitive draw from any carry position.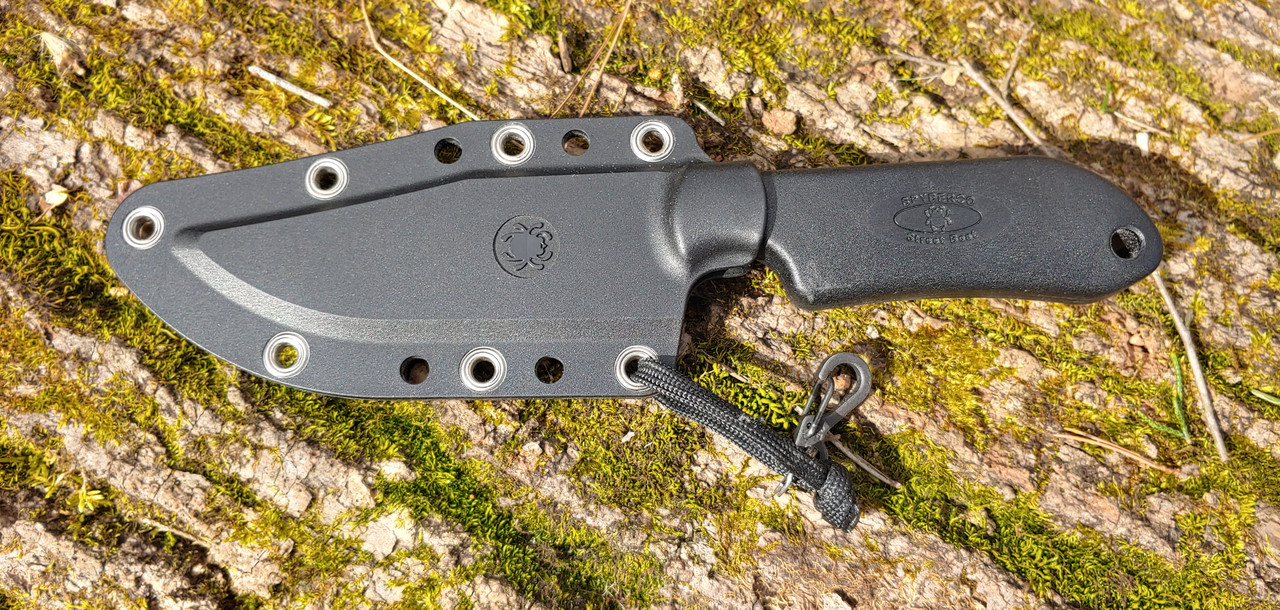 In this video about the larger Street Bowie, Fred Perrin talks about the handle design.
https://youtube.com/watch?v=sPWJ2CUZnW4
The handle gives me excellent control. It does a great job of placing my hand right next to the cutting edge, optimizing leverage.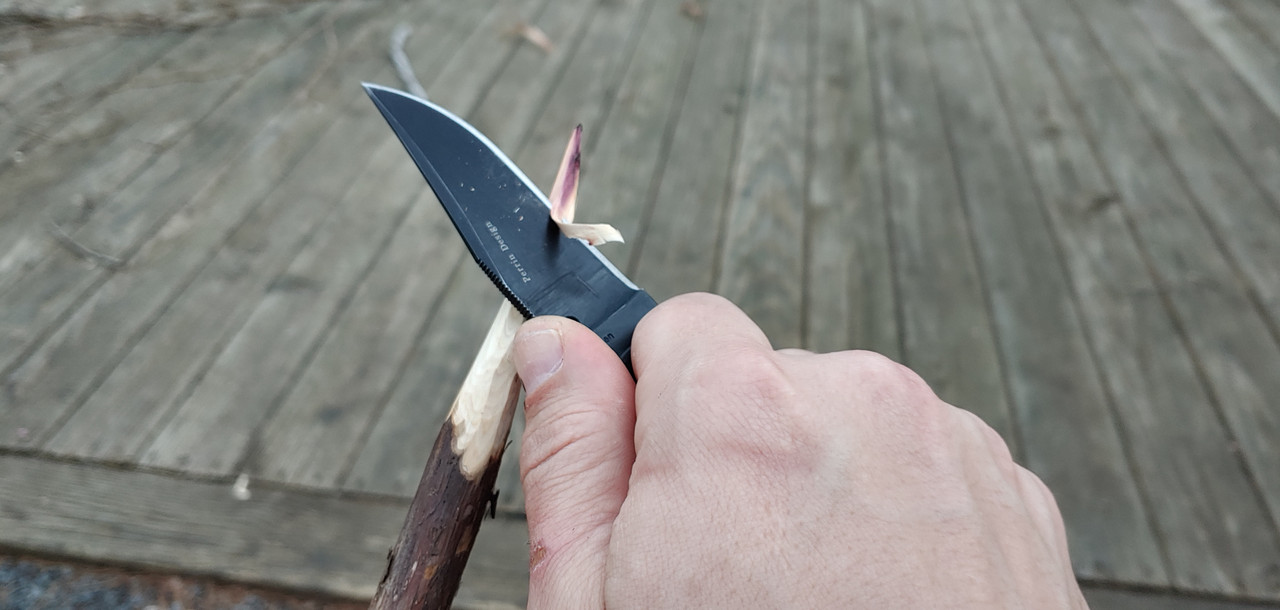 The handle is on a completely different level than folders. Every edge and corner is fully rounded. Perfectly smooth edges on every side. There's a palm swell in the mid-point and a flare at the end.
Photos don't do it justice. Here are short videos:
Lightweight handle
.
Micarta handle
.
One thing that makes the Streat Beat so ergonomic for me is the lack of a thumb ramp. This makes manipulating my grip much easier. With the generous jimping I've never had an issue with my thumb slipping.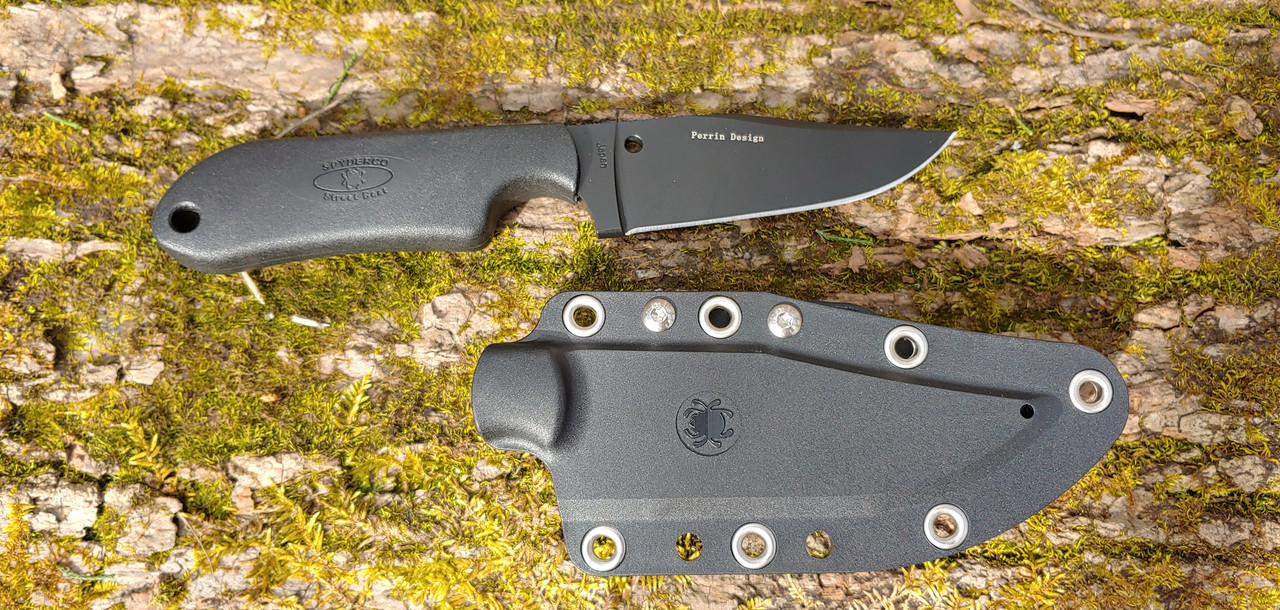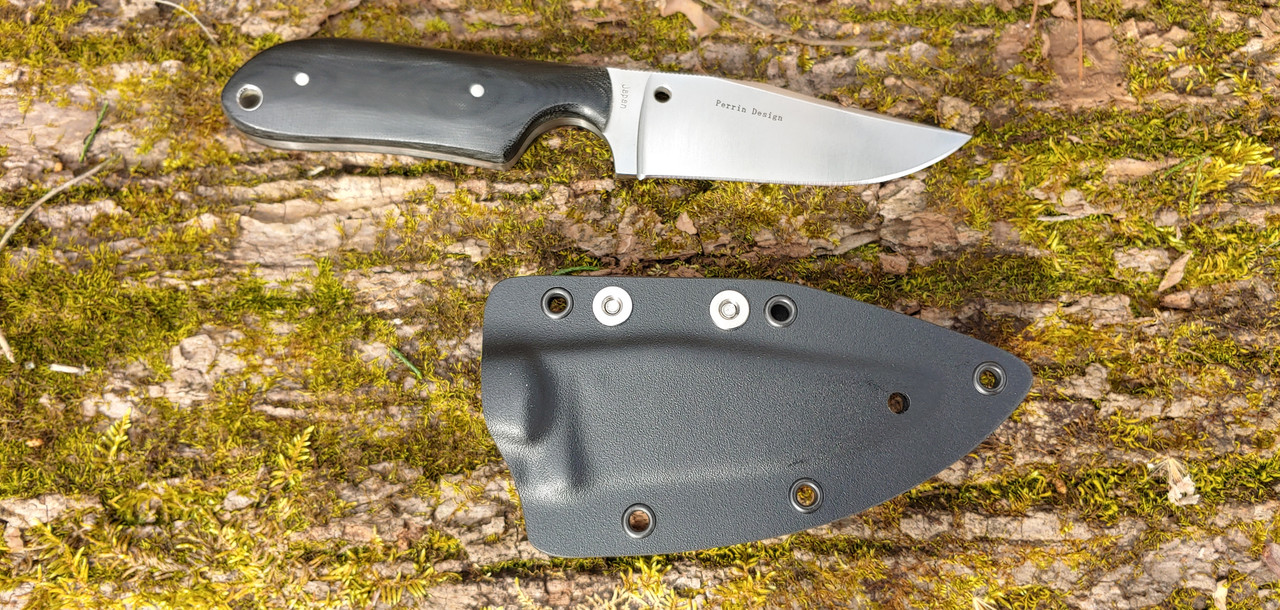 One of the biggest differences between runs are the sheaths. I prefer the current sheath to the old style. Retention seems more consistent, and the thumb ramp has a better position.
By placing the push off for the thumb down so much lower than other Street Beat sheaths, I can get a grip closer to my working grip prior to drawing the knife.
Retention is good, I've never had any issues carrying the knife loose in a pack or horizontal on my belt during a hike.
There are many ways one could carry a knife like this.
Here is how it comes setup from the factory
The G-clip works a lot like their pocket clips. It can clip on to belts and waist bands, worn inside or outside. Horizontal, vertical or 45 angle.
It carries well horizontal on the front of my belt.
I like carrying it this way when hiking.
It can be very discreet IWB.
My preferred carry method when carrying the Street Beat day to day is pocket carry. I clip a mini-carabiner to the corner of my pocket.
Here's a video showing how it works
It's a convenient setup. Discreet, and accessing it is very similar to a clipped folder.
Of course you'll have to research your local laws to find out what is permissible in your area.
Having carried the Street Beat about 50% of 2021, I've had plenty of time to reflect on how it stacks up against my favorite folding EDC's.
Pros
+ Fully contoured handle offers superior ergonomics
+ No stripped screws, loc-tite, perfectly adjusted pivots or blade centering to be concerned with
+ Extremely easy to keep clean, and basically rust proof for my uses.
+ Stout and solid feel despite being only 3oz. No play, ever.
+ Proportions that wouldn't be possible in a folder.
Cons
- Less compact than a folder with a similar blade length
- Potentially subject to harsher laws than folders
- Finding an ideal carry method takes more effort than a folder
For those of you that have never used a Street Beat, I hope this review has shed some light on why I've been
pushing for a sprint.
I feel it's a very well thought out design that can fill a variety of roles, and I believe it would really shine in
a higher end steel.