There is a recent and totally worth reading thread started by Cambertree about "Spyderco Pairs":
viewtopic.php?f=2&t=88713
While I did reply there, it made me realize that I practically never pair
Spydercos
, but that there are two particular Spydie-folders that I often pair with knives of
other
brands - certainly some of you do so too and perhaps like to share?
(Pics appreciated!)
My two are:
Chaparral FRN
and
Pac Salt SE
(H1), and the counterparts are always fixed blades, the scenario always the outdoors.
-
Chaparral FRN
, paired with a larger fixed blade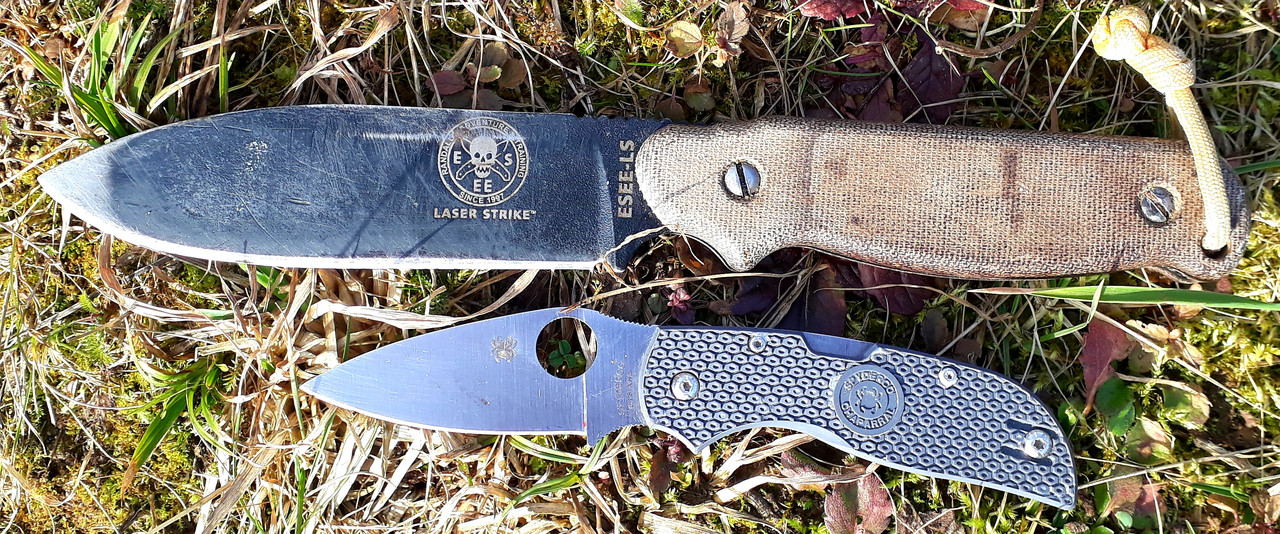 Frequent readers of this forum might already be bored and/or annoyed by my praise of this knife, so I´ll try to keep it brief..:
- The Chap has this unique reasonably thin, but still strong enough blade, that makes it an amazing slicer
- It has a bomb proof, solid construction, with all steel beneath the FRN (liners, steel backspacer), the backlock and the internal stop pin
- So for me it is almost something different to or more than just knife: A little, aggressive "bushcraft-claw", perfectly suited for all smaller tasks, that can very well a bit more "hard use". The ergos are amazing for me, if the use is not too prolongued.
While it is certainly meant to be held with a finger in the choil, one can certainly change to a good 3 or 3.5 - finger grip on the actual handle for a change when working longer
- And it is so slim and small that I really can carry i everywhere and always.
- In the pic it is paired with my
Esee Laser Strike:
I like that one a lot, but actually not really as a "knife" like in "cutting tool". Though I thinned it out, it still cuts pretty bad, and though the edge retention got better after some sharpenings it is still nothing to write home about.
But it is just a great undestructable beat-on-tool, though I mainly use it as a throwing knife these days (that´s why (just) the tip is stripped of all the coating already), and the Chap does all the real (smaller) cutting.
-
Pac Salt SE
also paired with a larger fixed blade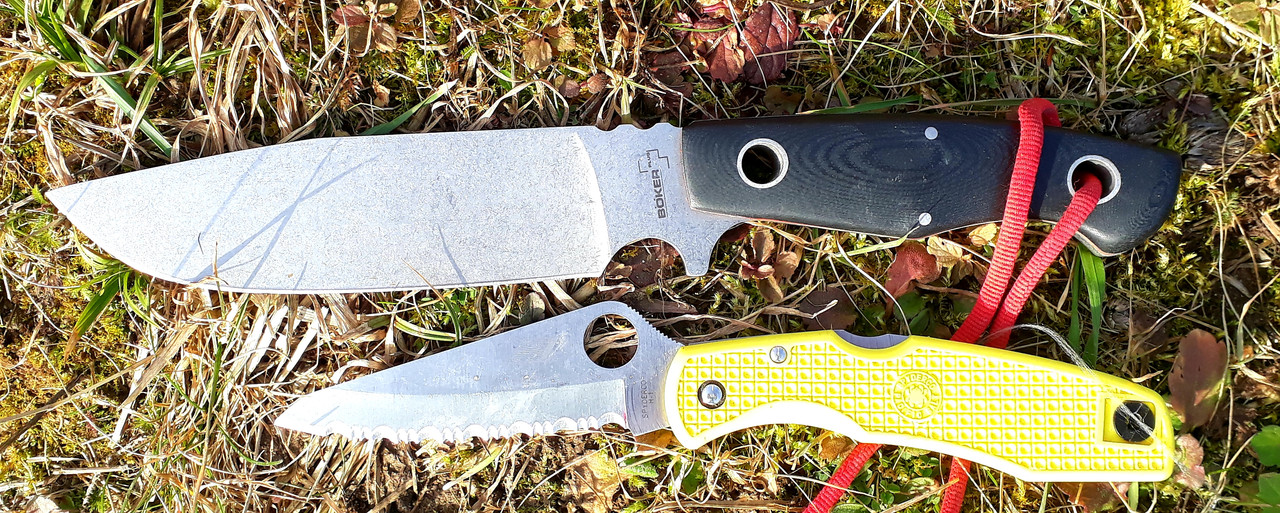 - The Pac Salt (I have the sabre hollow/H1 version) is an amazing cutter - like in "fine cutting", but also like in "brutal separator". The chisel grind combined with the penetration force of the teeth bites into material extremely well, works amazingly for "rougher", not too "detailed" whittling (so for example perfect for making a pointy stick) and the SE grind produces the best and finest feathersticks/shavings.
- It is also well suited for almost every knife task with its long cutting edge
- And very light and slim in carry, so no problem to bring it together with a larger fixed blade
- In the pic it is paired with my
Boker Vox rold plus
. This one has about Esee 6 size, but is lighter, but still relatively more blade heavy, and has perfect ergos for my hands
- While it is certainly a good cutter for its size (a lot better than the Laser Strike), when the Pac Salt is with me, the Boker is mainly used as a chopper, since the Spydie takes care of all the rest.