We're super mixed on this as a community. Some people swear by the corrosion resistance of DLC coating, and some people have reported issues with rust (and have provided proof).
Could it be that not all coatings are the same? Is there variation between the thickness of the coatings? Are all of spyderco's DLC blades coated by the same company? Does the steel being coated effect the effectiveness of the coating itself? Has there or will there be any CQI changes in regard to spyderco's DLC coating process or standards?
For me, lots of questions remain unanswered, but maybe together we can figure a few things out. Post your personal experiences with DLC here and please provide pictures. (postimageDOTorg works great)
Here is my experience: my first DLC coated blade was a Cold Steel Recon 1 in CTS XHP. It saw several months of carry on various rivers and in the ocean on tug boats and dredges. It did not rust through the DLC, but to be honest, the bevel didn't rust much either. I believe the bevel would have rusted more had I not sharpened it so frequently.
I also own a DLC coated Cold Steel AK—47 field knife in CPM 3V. This has mostly seen carry farther inland where rust isn't an issue. It saw about a week of carry on a dredge as well, and during that time acquired a few rust spots on the bevel. The DLC seemed impervious to rust.
The third was a Cold Steel Broken Skull, which saw several months of carry on the Savannah River and Charleston Harbor. The result was nearly identical to the Recon 1.
Maybe 30-40 days ago I got my hands on a knife that I value much more than most of my other knives (certainly much more than the aforementioned Cold Steel models), the St. Nick's Shaman exclusive in CPM 4V. I was not only happy about the model itself, but was ecstatic about the DLC coating providing some corrosion resistance to an otherwise perfect steel (imo). I left the harbor/ocean side of the industry in which I work and transferred to beaches. I was eager to use the model, but also wanted to take care of it, so I decided to carry it alongside my Broken Skull, which would handle hard use tasks or do anything that involved saltwater exposure. I remember making a post about comparing the effectiveness of the coatings. In just 3-4 days though, sand got on both knives and I decided not to carry the Shaman at work out of fear of getting sand in the pivot. I was bummed that I didn't get a chance to see how it performed and left it in my hotel room (I travel constantly). It wasn't until the next day that I noticed this: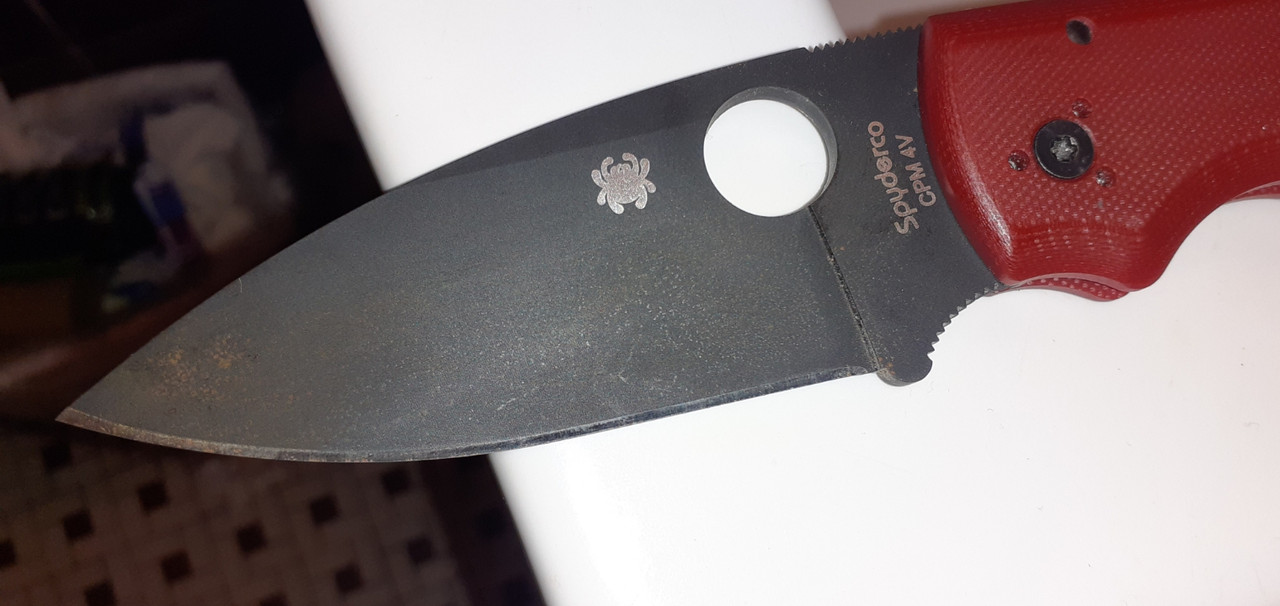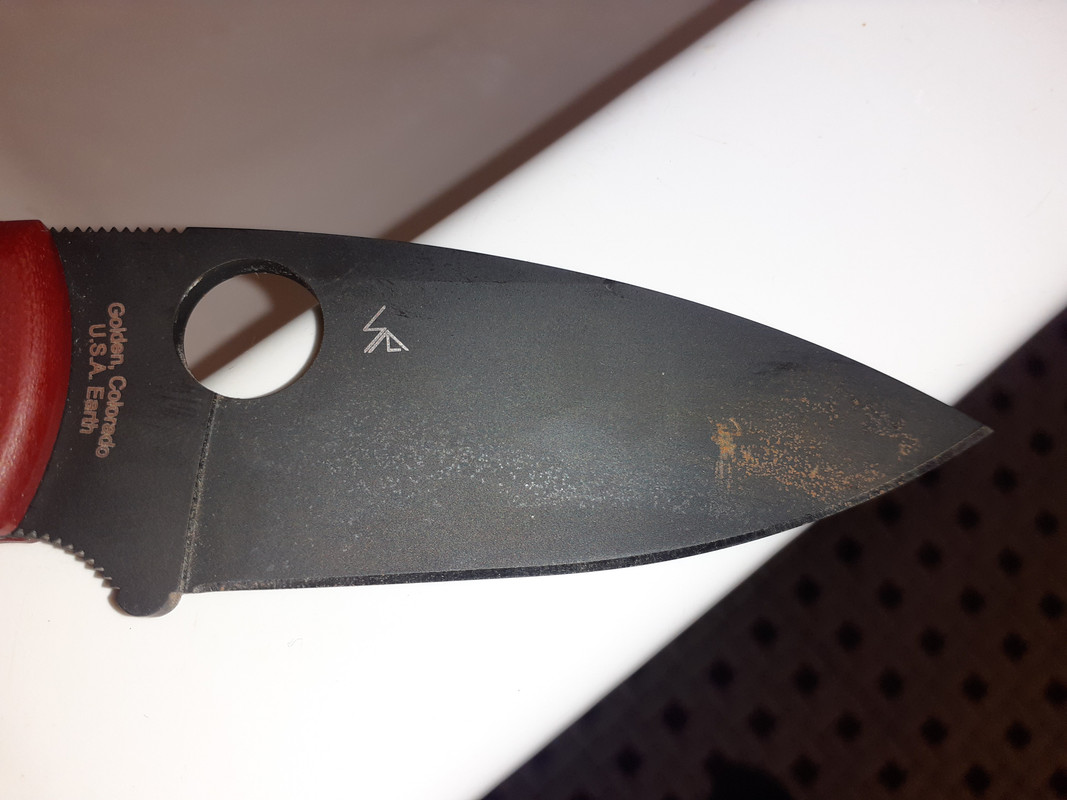 I was surprised to see this amount of rust develop so quickly. I also have a DLC Manix 2 XL in s30v that saw a week of similar carry and has had zero rust issues. I am going to start carrying the Manix daily and see if any rust develops.
Share your experiences! St Nick's exclusive owners especially, have you seen any rust? What do you feel about DLC?
In the poll you can pick up to 2 choices.