Hey guys and gals,
I just wanted to share a few highlights of a really nice Labor Day weekend with you all. First off, the weather was exceptionally nice (blue skies and mid-80's) on all three days. My darling wife suprised me on Monday (my birthday) with a knife that I've been wanting ever since I read Demoncase's review: The WolfSpyder by Ray Mears.
She ordered the WolfSpyder directly from Ray's website and it arrived in Indiana within about five days from the UK. (Interestingly enough, it was shipped via Royal Mail. How cool is that?) Anyway, I am really digging this funky little knife! It is interesting to note that I originally did not care for the looks of the WolfSpyder. I then read Demon's mini-review and saw the comparison shots alongside a Native and this made me look twice. All in all, it is a well-executed design. The ergos are well-proportioned and surprisingly comfortable for such a small knife. The blade (featuring a Scandi-grind) is nice and beefy and should do well for bushcrafting type duties. Since I'm not into bushcrafting, I will likely use it more for EDC than for anything. (Wait, does sharpening pencils count as bushcrafting??) I've really enjoyed carrying the WolfSpyder these few past days. In fact, I've got it stashed on my right side IWB of my dress slacks as I type this. Here are a few less-than-stellar shots for your viewing pleasure.
Along with the WolfSpyder, my wife blessed me with a Case Mini Copperlock (burnt prime stag) and also a Ken Onion Work Sharp sharpening system. This little grinder should come in very handy in a few weeks when I start profiling blades again.
Not to be out-done, my mother and father-in-law blessed me with a new Stihl MS250 chainsaw for my birthday! I'd been wanting a new Stihl for a while, but I kept procrastinating on getting one for one reason or another. Hey, I even got a chance to break in the new saw on Saturday morning out in my family's deer woods. This thing chewed through green maple and green oak like it was cake. I'd love to see Spyderco do a collab with Stihl some day. Maybe an Endura in safety orange FRN in H1 in full SE?
Thanks for reading!
-Michael
WolfSpyder: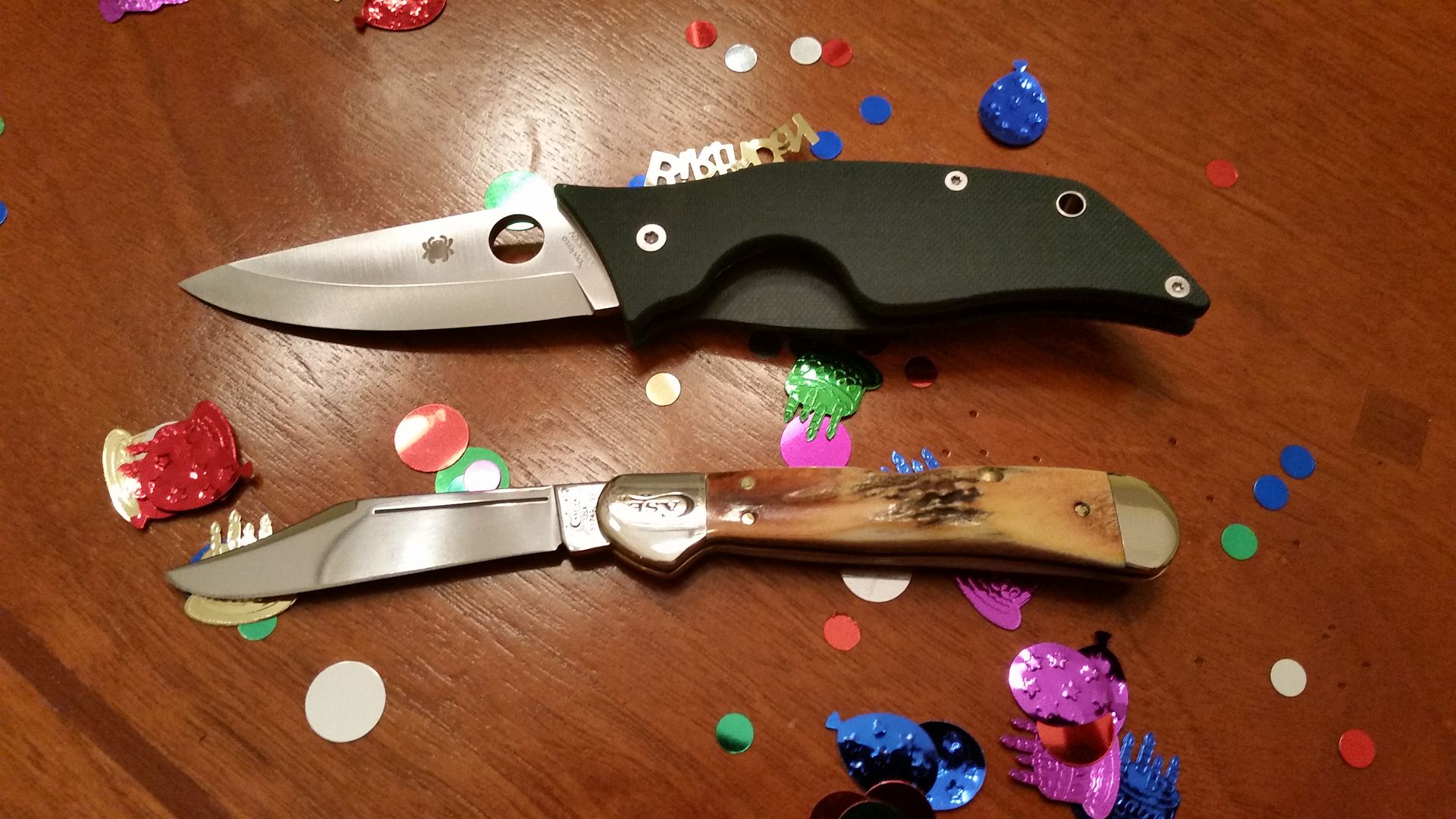 My new chainsaw: