I had a little carpet and was curious about a comparison of 440C and N690Co in two similar Spyderco blades :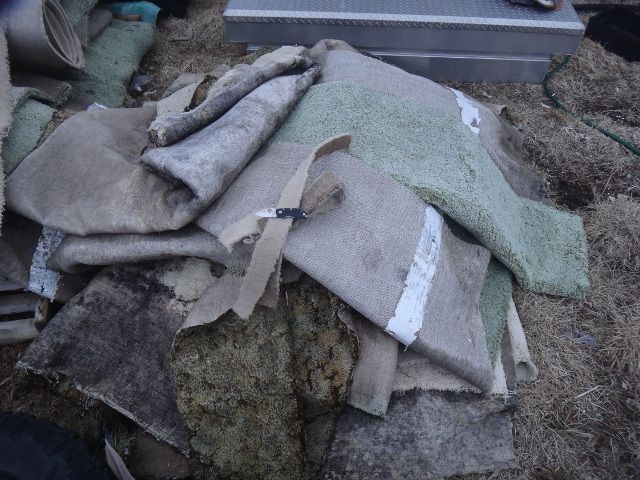 -Chicago : 440C
-Pingo : N690Co
The knives had the original edge angles maintained :
-edge bevels at slightly more than 15 dps, less than 20 dps
-apex bevel set with a 600 grit DMT stone
I made cuts until the knives were very dull :
-could not slice 1/8" light jute under a 500 gram load
At this point the apex would reflect light, struggle to slice newsprint and only do short slices on photocopy paper. However they could still keep cutting carpet, it takes a LONG time for the edge to stop being able to cut at all if you are willing to just keep pressing harder.
The edges that Spyderco does apply angle wise are well suited to this work. While I generally run lower edge angles, once you go over 15 dps the edge becomes durable enough so that they won't even take damage even on high carbide steels in this work. Here is the worst spot of damage on the Chicago after one of the runs :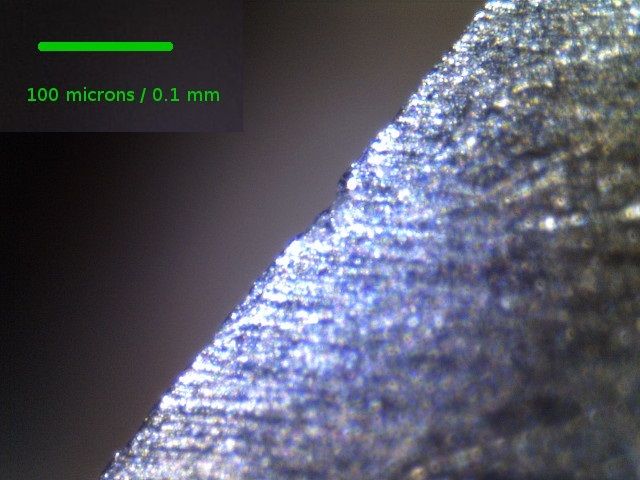 It is barely visible under 50X magnification. The Pingo was similar. The apex would reflect light and in fact the entire apex/micro-bevel would be worn away, but there was little damage extending into the edge itself.
I only did two runs with each blade, so these results are very tentative, but they make sense, I would not expect a significant difference between the two :
-Chicago : 100 (25) slices
-Pingo : 125 (10) slices
Interestingly enough, the Pingo was a much nicer knife to work with for the cutting :
-more comfortable in hand
-less belly kept the blade from slipping out of cuts