Recently just as part of looking at various abrasives I started doing edge retention trials slicing 1/2" hemp. The knife used is a 3Cr13 stainless steel chef's knife which is sharpened with an edge angle of ~ 5 dps and then micro-beveled at 15 dps with various grit finishes. Each grit finish is checked under magnification. Here is the result of the CBN rods :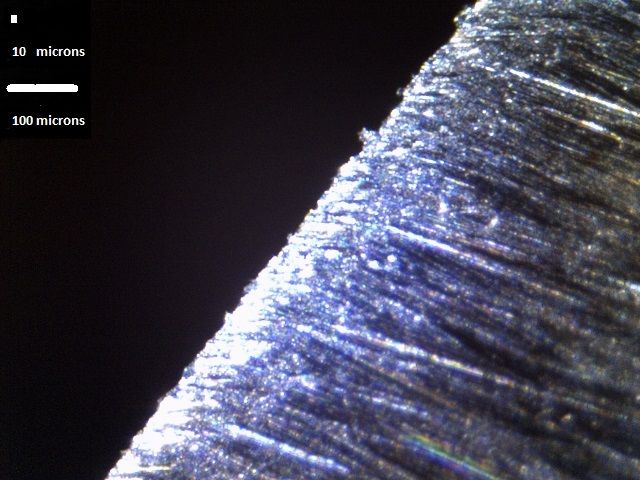 As the CBN rods are fairly coarse (400 grit) the apex line is a bit ragged as the scratches are deep. However this is exactly what gives it the high edge retention in slicing abrasive materials and it causes it to blunt in a complicated manner :
-the tips of the jagged bits smooth/round
-the inside of the teeth round out
-finally large flats appear on the edge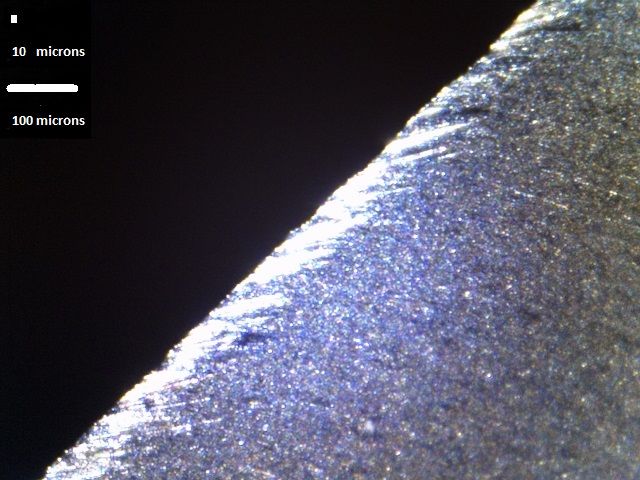 This is the edge at the end of the trial, see how the jaggedness is gone and it is not smooth and lightly irregular which is left over from the initial rough finish. At this stage the knife is really dull (sharpness is less than 1.5% of optimal) however it barely reflects light (just barely) and still easily slices newsprint and has long past the point of that high cutting ability you see when the knife is fully sharp and it can slice that 1/2" hemp with 4-5 lbs on a 2" draw.
The results of a bunch of stones :
The curious thing about this is that you could actually use this to estimate the grit of the stones fairly well. This data is only the average of two runs so some of the error bars are quite large. I may repeat them all a few more times to make them more consistent but not necessarily as I did this more to show the general pattern vs exacting specifics so I would rather have a lot of grits than a few which are more precisely determined.
I will eventually add the Sharpmaker diamond, medium and fine rods as I have them as well. Background thread :
http://www.cliffstamp.com/knives/forum/read.php?3,37143
" target="_blank .