One of the most common advices given about sharpening is paradoxically to avoid it by steeling/stropping to delay the time between sharpening. This is usually argued for on the basis of sharpening being either extremely complicated or very wasteful/hard on a knife. Neither of these need to be true, sharpening can be very quick/efficient with a little understanding and sharpening doesn't need to actually remove any material from the width of a knife at all practically, again with a little knowledge of sharpening.
I have never been much of an advocate of steeling for a number of reasons, the main one being if you are going to steel then you are using an edge in a quasi-deformed state so all of that time/money/effort into making a quality steel to produce a very strong/tough material is being sacrificed as you are deforming the apex which leaves it more brittle/weak (in regards to specific loads). But recently I did a little experiment to look at this in some detail, more on a request than anything else as again it isn't something which is of significant interest to me.
To start
I used a Lum Chinese in VG-10 which has been reground to a full height convex grind which ends in an edge which tapers to 5-6 dps right before the apex. It is sharpened with a micro-bevel at 15 dps with a 600 DMT stone. The knife was used to slice 1/2" hemp until dull and then calculate edge retention statistics. Then I then used a nitrided rod made by cKc knives to restore the edge to optimal at 20 dps and then repeated the cutting and the statistics. This is what the edge looked like after a few steeling runs :
The part above the red line is the steeling bevel, the part above the green line is the DMT bevel, the rest of it is the finish from the shaping stones. I did a number of steeling runs using very light force on the nitrided rod (just barely made contact) and ended with one which was forceful (a few lbs of force) to see what happened in that method. In short, th the high force method doesn't work well at all, it smears out the edge and it loses all slicing aggression and is very weak. The ideal method is to use very low force, barely make contact and alternate passes as much as patience will allow.
The results
look like :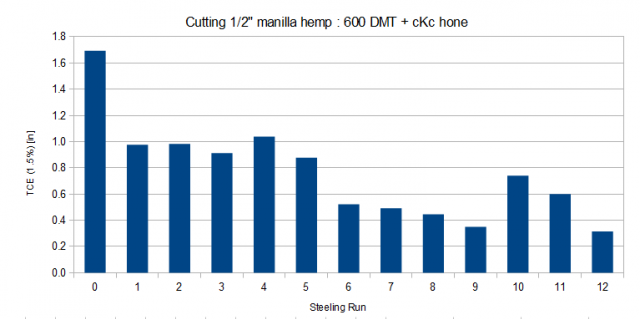 Now this is only one run and it is all connected to the first sharpening run so there could be a significant bias in the data, but still at this stage a few general observations can be made :
-the steeling times are very short, < 10 seconds
-the knife can be steeled 10+ times and still have functional edge retention
-the edge retention looks to be decreasing with repeated steeling, but stays functional for a long time
In fact if you look at the total edge retention it is ~5X the initial which means that this VG-10 blade easily has higher edge retention than any steel I have used (as steels don't offer that much more edge retention on hemp, a factor of +/- 2X will span almost all cutlery steels). This isn't at the limit of steeling so it is possible that it might be as high as 10X or more before steeling stops being effective at all.
Does this mean
edge retention data is pointless because you can just steel edges? Well no, not even close. Not all materials are like hemp which is very soft and not very abrasive. If you try the same thing with cardboard and even worse, something like carpet, you won't get that kind of response as the nitrided rod won't be able to restore the edge the same way as it will be heavily worn and gouged, just just lightly deformed as happens with hemp.
There is also another issue and in retrospect maybe this wasn't the ideal knife to use, or maybe it was as it showcases something interesting when I tried to repeat it again. I ground off the edge and reset it and then applied the same micro-bevel, however this time in less than 10 cuts on the hemp the edge was damaged beyond the depth of the apex bevel :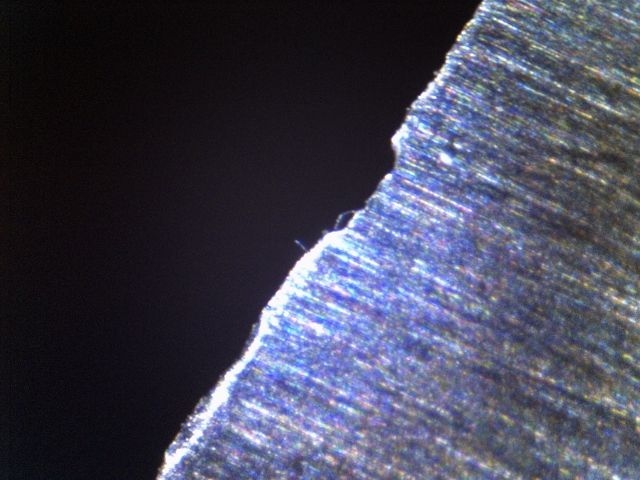 +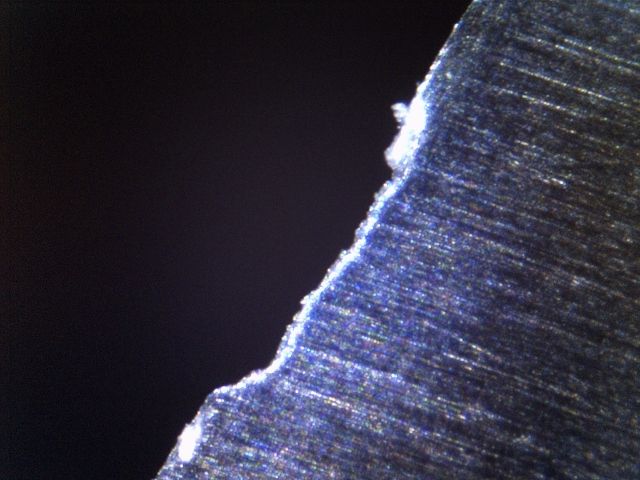 I ground the edge off and tried it once more :
Can you conclude
steeling is useless because it causes fatigue to the edge which makes it prone to fractures (which looks like what this is showing). Not in general, no. This is a relatively hard, high carbide steel in a very low edge angle which is almost at the failure limit for this type of cutting and thus even a small weakness will be magnified. I don't think the same thing would happen if the edge was at 10 dps, or if the steel was inherently a much more stable and fatigue resistant type (low carbide/high strength/high purity).

In short
:
-steeling may increase edge retention to very high levels with almost no effort/time spent
-it can retain slicing aggression in repeated cycles (10 times)
-very high force tends to be a negative
-there may be issues with steeling very high carbide blades sharpened at very low angles
This also might be why so many people warn about steeling Japanese blades because of the high carbide and low angles they are much more sensitive to long term fatigue than the much lower carbide and higher angle western type blade materials (5Cr13).
--
I am not sure if I will look at this in more detail because again it really isn't something I am practically interested in, though there are obvious questions to be asked such as what would happen if :
-I didn't do that very high force steeling run at the end
-If this was white steel
-Or AEB-L
-Or maybe 121REX/Maxamet (are they worse again)
There are also some very interesting questions such as :
-what edge angle stops the fatigue failures (or what carbide volume)
-at this edge angle just how much greater edge retention can you get
-does it work to any practical extent on something dramatically abrasive like fibreglass or carpet
-is there any difference between 1095 vs White steel (purity has a strong effect on fatigue resistance)
This is course what happens any time you apply a little science to anything, you learn a little bit about something and you immediately see dozens of questions which reveal you were ignorant in ways you didn't even know that you didn't know.