Recently I have been doing some edge retention comparisons to look at the edge retention as a function of micro-bevel angle using the Wicked Edge 1000 grit diamond plates with a Spyderco Lum : VG-10 and a Paramilitary : S30V. I am about half way through the data now (
http://www.spyderco.com/forumII/viewtop ... =2&t=65212
" target="_blank) however at this stage even with the numbers being fairly rough there is an interesting question asked, or maybe point made about the relationship between toughness and edge retention. To start :
That is the edge retention as a function of micro-bevel angle. Now again this is only three runs so the conclusions are not that strong (precise) but still the general trend is all that is important to this discussion here and specifically that the edge retention decreases as the micro-bevel angle increases. Now if this makes you pause then just consider the following very crude image :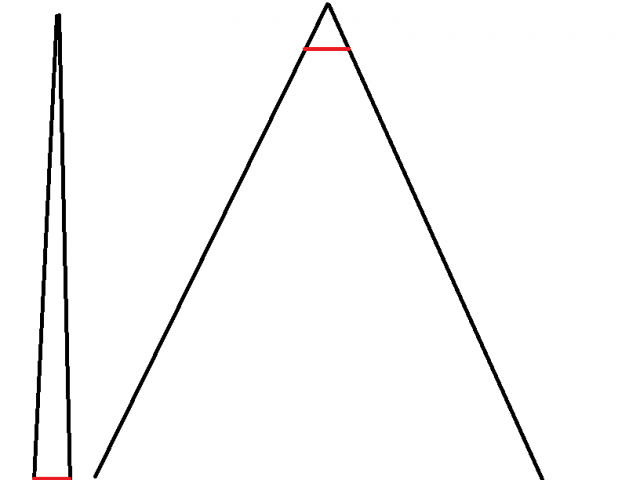 The edge on the left is a very low micro-bevel, the edge on the right has a very large micro-bevel angle. Both red lines are the same thickness of the apex after dulling. Which apex do you think will reach that red line faster, the high angle or the low one?
Now some people might step in here and say "But wait, if you reduce the apex angle too much at some point surely it will break off and not slowly dull?". Yes, exactly right so we have to be clear that we are talking about micro-bevel angles here which are
stable
.
--
Here is where it gets interesting. Lets say that when you compare VG-10 vs S30V you find that if the VG-10 blade has a ~2 dps lower micro-bevel it has the same edge retention then as S30V (again, I don't have enough data to give clear numbers yet so these are just approximates at this stage). How then would you describe those two knives?
They have the same initial sharpness, the edge retention is the same, the cutting ability is the same (nearly identical both would for example slice 1/2" hemp with 4-5 lbs on a 2" draw). Well what happens is that the S30V micro-bevel is slightly more resistant to damage if you do accidentally over load it as that extra 2 dps makes it stronger/tougher.
What this means interestingly enough is that while you can just sharpen all the steels at the same micro-bevel angles, if you take advantage of the fact that in some cases S30V will have better edge retention than VG-10 this means you can run the micro-bevel a little higher and sacrifice some of that edge retention ability to make the very apex a little tougher/stronger.
In this way while you could look at S30V as being having a slight advantage in edge retention over VG-10 in cutting soft materials like hemp and cardboard (which is how it is commonly done/promoted) you could also look at it as having the same edge retention on those materials but by adjusting the micro-bevel angle make the apex stronger/tougher - i.e. the steel is more durable.
Here is a funny part (to me anyway) this means that the vanadium carbides, in essence (though indirectly), make the steel stronger/tougher at the apex if you regrind the knife so as to take advantage of it.
--
Now this isn't a VG-10 vs S30V issue, it holds across all steels and it is just a way to look at steels in a new way possibly. However it isn't always as easy to make this kind of comparison. For example if you try it with AEB-L vs S30V it is more complicated because AEB-L is actually stronger/tougher at the apex than S30V in thinner sections this means that if you compare them it is possible that AEB-L could have higher edge retention
and
apex durability at the same time. If you want to get something really interesting just try it with 420HC vs 10V and watch the numbers come out and what it says about edge retention, durability, etc. .