I recently was helping a friend who noted they were throwing out a pile of used carpet and like any sensible person I saw an opportunity to cut it up into little tiny strips while listening to Skynard :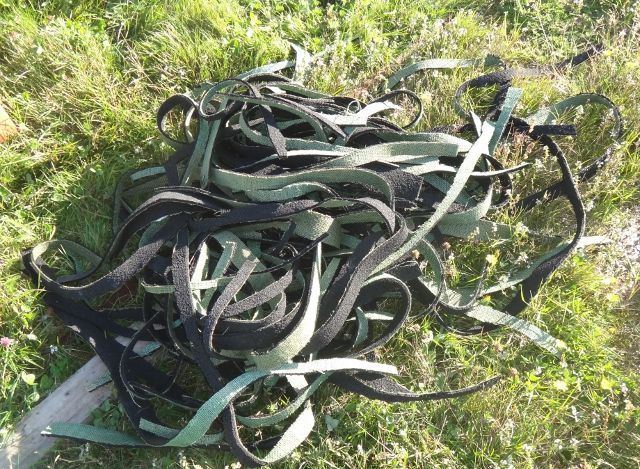 Knives :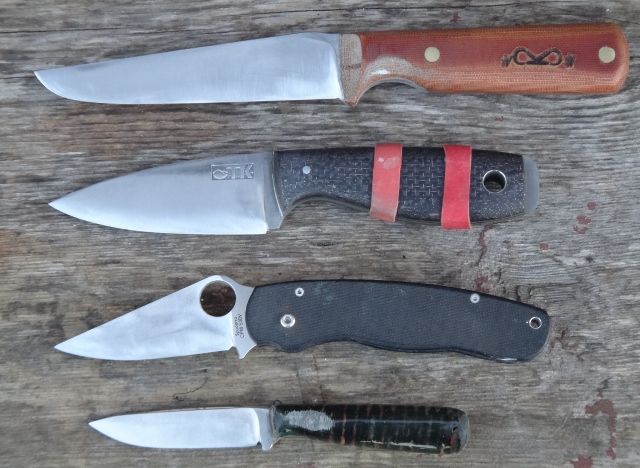 -Kyley Harris fixed blade, cKc-X (steel not released)
-Ozark Tradition Knifeworks EDC, k390 / 64 HRC
-Spyderco Paramilitary, S30V
-Uddopukko/Enzo, O1
The method :
-all knives zero ground to a very light convex, edge bevel starts to increase curvature at ~0.010"/6.5 dps
-15 dps micro bevel, 600 DMT
-carpet cut with a 2" section of blade, cuts were 2" deep
-cuts were made through random selection on the same section of carpet
-blinding was used (the individual measuring the sharpness didn't know how many cuts were made)
-sharpness was measured in multiple different ways (35 g/Bergia, 500 g/heavy jute, 2" slice on 3/8" sisal, visual inspection, etc.)
-126 slices were made, four rounds of each to produce average / total values
-a Naniwa Superstone 400 was used to reset the edge, pressure on the stone was 0.4 to 0.8 psi
The results :

-final sharpness was ~1.5% of optimal
-cuts on 3/8" sisal at this point were ~10/11 lbs
-all edges showed a reflection of light (the amount decreased in the order of the list below)
-the edge retention was much closer than the resharpening times (# passes)
In some detail :
cKc-X : TCE :0.27 (2), PPS (total) : 550
Uddo/O1 : TCE 0.36 (6), PPS (total) : 1115
Paramilitary/S30V TCE (1.5%) : 0.48 (5), PPS (total) : 2025
OTK/k390 : TCE 0.32 (2), PPS (total) : 4250
The PPS count is the number of passes needed on the waterstone, it is the total of four runs. The TCE is a measure of edge retention, it is calculated as :
sum = amount of material cut (in meters) * sharpness (as a percentage)
It basically is a weight average of the sharpness during the cutting, the higher the TCE the stronger the edge retention. In this case the final sharpness was very low, ~1.5% thus the TCE is for extreme cutting, this would be like cutting a km of cardboard and thousands of cuts of hemp/sisal.
Comments :
The results are fairly straightforward aside from the k390. It had an acid treatment to force a paina (from the maker), I think I am still seeing some effects of that. I have some more carpet left and I am considering :
-doing a few more runs to get more precise values
-do a super long runs with a couple of blades to extreme low sharpness (<0.5%)
-check a couple of more UHC steels
-try a different angle/edge finish (25 dps/mxf DMT)
The last three are more interesting as I think they will show different relative performance ratios.