ZDP-189 usually gets decent comments from most people who use it with Spyderco knives, however there is one common complaint in that it can be difficult to sharpen and in particular can even chip on the Sharpmaker. These difficulties are caused by the same properties which also tend to make it praised for edge retention on coarse media :
-higher than average hardness
-higher than average carbide volume
An obvious solution to sharpening ZDP-189 and similar high carbide steels is to retreat to a more coarse stone and use the Sharpmaker to micro-bevel after grinding a large relief bevel on a new blade. But while a lot of stones are decent for a lot of knives, some stones will not work well on steels like ZDP-189, yes they will grind the steel but the edge will not form clean.
Here is an edge off of a Bester 700 which is a very decent semi-coarse waterstone :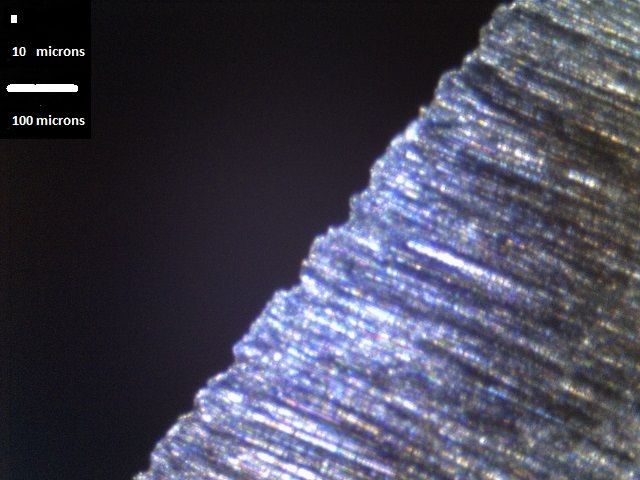 Note that the edge doesn't form clean by that I mean it fractures above the size of the scratch pattern. As the steel gets lower carbide and tougher this stops happening but with the brittle high carbide steels it can be a real problem as it causes more steel to be wasted than necessary in sharpening and you have to do more work to grind off that chipped edge. Now an obvious solution is to finish with a finer stone, here is the same knife with the finish from a Naniwa Aotoshi 2000 :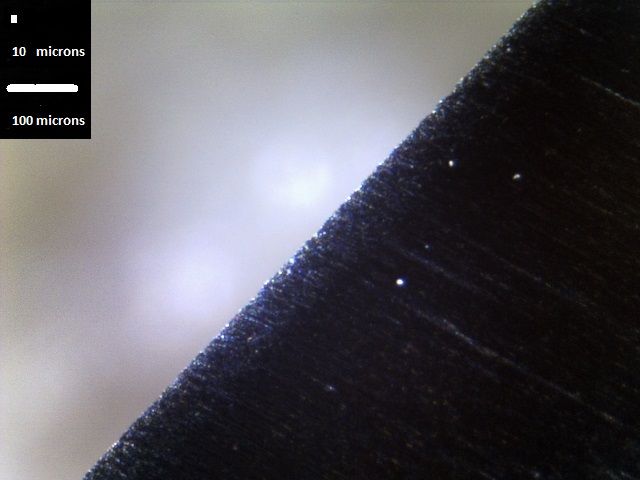 While the Naniwa Aotoshi 2000 does very well on high carbide steels and won't fracture them even up to steels like Maxamet, and it grinds ZDP-189 well it is a 2000 grit stone and thus the cutting speed is much lower than the mid-coarse stones like the Bester 700. To be specific here is a cutting trial comparing the two in repeated sharpening of a basic stainless steel knife :
Bester 700 : 120 - 100 pps
Naniwa Aotoshi 2000 : 550 - 700
Now while you could use the Aotoshi it is going to take you 4-5 times as long. Ideally you would want a stone which cuts as fast as the Bester but finishes as fine as the Aotoshi - but that is impossible right? Not really and enter the Naniwa Superstone 400.
The Naniwa Superstone 400 looks like this when it is flushed :
which is very similar to the Bester 700 :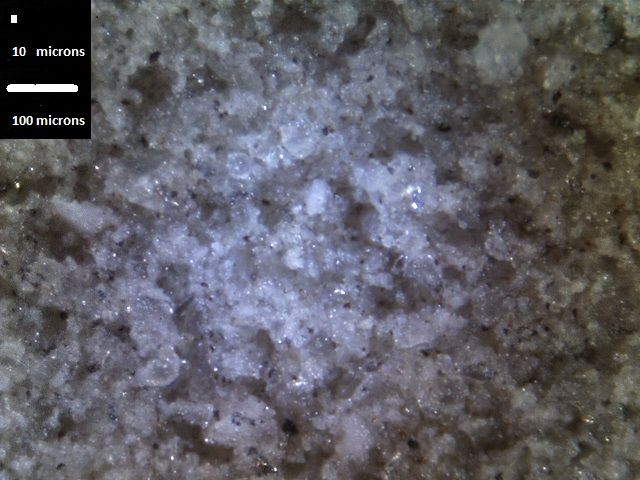 Close in terms of grit size and the openness of the coat with the Bester being a little more open. If you polish a blade to mirror and then do a little bit of grinding (50 passes) with each stone then they also produce very similar scratch patterns :
+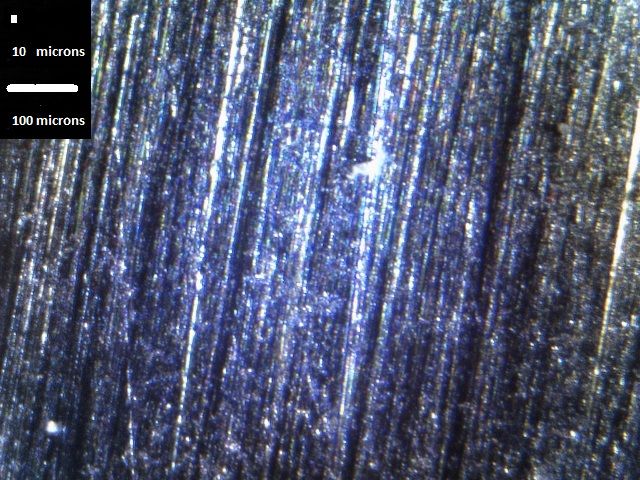 These are so close that it is hard to say which is which (the second is the Bester) but the Bester tends to be a little more coarse with occasional deeper scratches.
At this point you might be saying - well if they look the same and cut the same then what is the point, what are you talking about using one over the other with ZDP-189 and other high carbide steels?
This is the critical part, you normally don't just do 50 passes with a coarse stone and then stop. If you keep using the Naniwa Superstone 400 builds up a thick mud and that completely changes how it cuts/finishes. The surface of the stone then looks like this :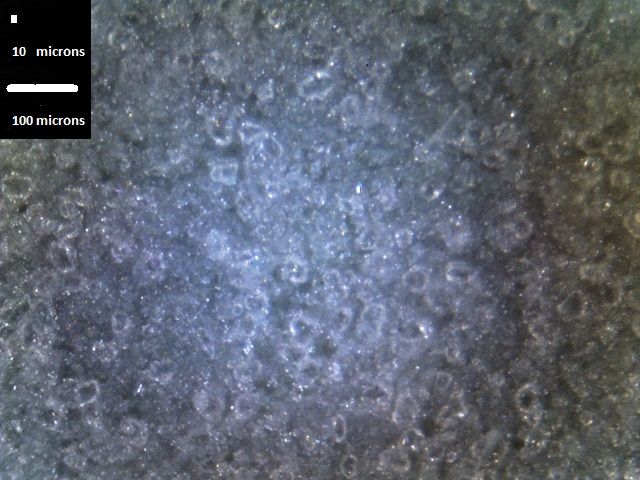 and it produces this as a finish :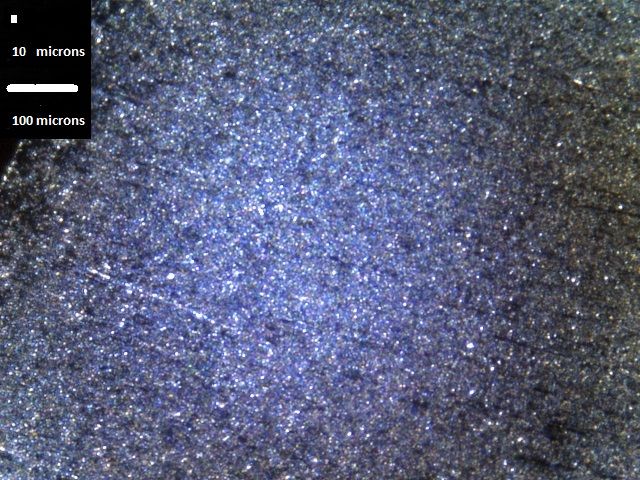 The coarse unidirectional scratches are gone and it looks more like a shot peened finish. However if you use the Bester 700 it doesn't ever do that, it always produces the same directional scratch pattern because it never makes a mud :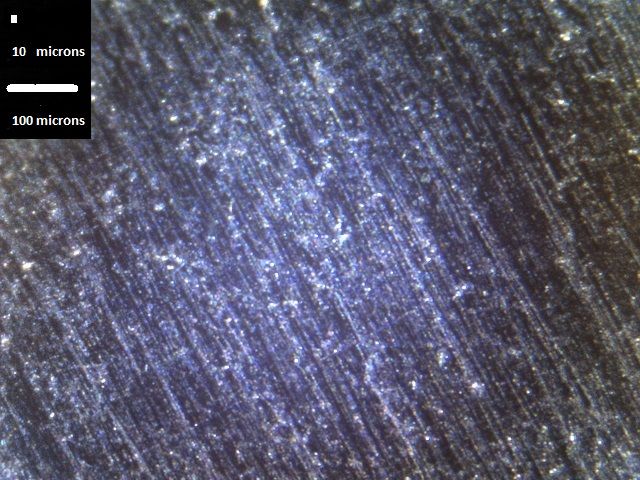 Why does this happen, this is the interesting part.
While both will build up a slurry, the Naniwa forms something similar to a colloid which is like a suspension but the particles do not sediment (or do so over a very long time).
If you stir up the slurry on the Bester then it mixes into a suspension, however as soon as you stop the particles sediment (settle) and you can clearly see the water and the abrasive (which is much larger than on the Naniwa) separately.
However the Naniwa slurry does not, it just becomes a paste/mud and you can dilute it and it doesn't sediment, you can not see water and the abrasive separately just a mud.
These act very differently when honing.
In the Naniwa Superstone :
-the slurry is finer, more dense and more of a paste and can itself acts as a polishing agent (in random directions)
-the slurry buffers the steel from the coarse abrasive (as the knife rides on the mud)
-the stone gets a much finer surface as the abrasive breaks down / fills in
Now you can make the Bester 700 act like the Naniwa Superstone if you just put a thick mud on it (from the Naniwa or a slurry stone) but because the Bester 700 will not replace it naturally the harsh scratches will come in as the mud dilutes.
--
What is the point of all of this? Similar to how you have to choose a steel to suit an application you have to choose a stone to suit a steel. If you pick the abrasive which is designed to cut the steel well (speed and finish) then problems with sharpening will disappear. However if you don't then you can create problems. Thus when people ask questions like "Does ZDP-189 have problems in chipping in sharpening?" the answer is basically only if you use non-suitable abrasives.