I hope somebody can explain what is going on to me!
Here is a summary of the events of the last few days, to the best of my recollection...
Last week I got my Spyderco Gayle Bradley in the mail, I had been eagerly awaiting it and was not let down. It was smooth and well constructed like all Spyderco's I've owned but it just felt so... solid. I decided it was going into my rotation immediately and put it right into my pocket.
After seeing photos of other people's Gayle Bradleys with dark looking forced patinas I decided to give it a shot, I picked up a bottle of apple cider vinegar and submerged the blade in it overnight.
The next morning I jumped out of bed and ran downstairs to check on my new patina. When I pulled it out of the vinegar I wasn't sure it looked any darker at all, maybe enough time hadn't passed yet?
After about two more days the blade was a little grey but still wasn't dark like I'd seen in pictures online, other people had achieved a completely black blade, which is what I was shooting for.
At this point in time I took a quick picture on my cell phone for color reference, here it is next to a regular blade, they looked the same before the GB's vinegar bath.
Frustrated, I looked online and found someone suggesting cola instead of vinegar, and I rinsed the blade off with water and threw it into a glass of flat Pepsi.
The next morning is when something puzzling occurred, I removed the blade from the Pepsi and it looked slightly darker, but when handling it my fingernail 'scratched' the blade and left a
black
mark.
It was like I was scratching silver paint off an underlying black surface.
I scratched my fingernail vigorously across the entire blade to see what would come off, and the result can be seen here (with another blade for comparison):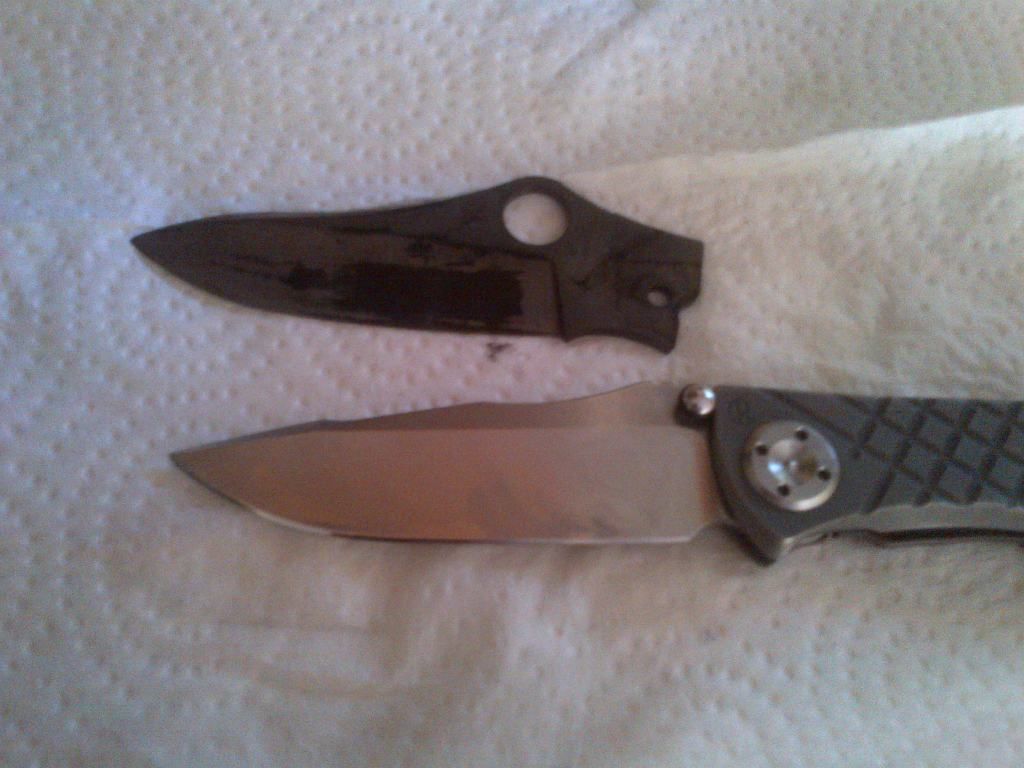 I couldn't get any more of the 'silver' to come off so I put in back in the Pepsi bath. This morning was about 48 hours later and the blade looks the same:
Can anyone explain to me what's going on? Maybe this is a normal or uncommon but well known result? I have no experience with non-stainless blades and patina outside of seeing pictures online and the events above.
Note: when submerging the blade in vinegar the first time I applied lip balm to the pivot and edge to try and prevent patina from forming there. (Didn't seem to work so I wiped it off)
If this in unusual can someone hypothesize what happened? And propose a solution or a course of action that would yield an improvement or at least more information?
Should I use acid (FeCl or whatever?) to etch the blade? Should I try to polish it? I'm at a loss at this point...
Thanks for reading, I know it was long, but I hope it was also interesting and puzzling to someone other than me.
Sorry for the cellphone pictures, I'll get a better picture of the current condition of the blade tonight after work (I put it back in the Pepsi for now).