This is the season to give thanks and be thankful. Spyderco supports the Children's Hospital Colorado and several Spyderco employees and their families are whole today because of the great and tireless work performed at Children's Hospital.
In our knife manufacturing facility in Golden, we cut blades from a sheet of steel using a laser cutter. The steel panel that remains after the blades are cut, is a unique "cookie dough" sheet. Normally these are recycled, but many Spyderco customers have inquired about them. Spyderco will raffle off two of them to benefit the Denver Children's Hospital during this holiday season and donate 100% of the proceeds to Children's Hospital Colorado.
The sheets are Crucible's exotic CPM-S35VN steel approximately 12" X 16", each weighing 4.7lbs. The blades cut from the sheet were made into C81 Para Miltary2 blades.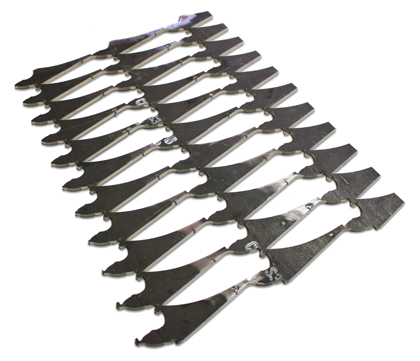 HOW TO PLAY:
Each entry is $10.00. Checks or money orders only (sorry we cannot accept cash, credit cards or PayPal) made out to Children's Hospital Colorado Foundation. You can enter multiple times using a single check or money order. Your name will be entered as one entry for each $10.00. (i.e. $30.00 enters your name into the drawing three times). Checks and money orders must be received by Spyderco no later than Tuesday December 27th. The raffle is open to everyone, not only Spyderco Forum members. With your check or money order, please include both your screen name and real name, return shipping address and an email address where we may contact you if you win.
Send checks to:
Children's Hospital Colorado Foundation
820 Spyderco Way
Golden, CO 80403 U.S.A.
The random drawing will take place on Wednesday December 28, 0900 MDT. Winners will be announced on this forum and will be contacted using the email address they provide with the check entry.
Spyderco will mail one steel sheet each, to two randomly drawn winners on January 3, 2012.
On behalf of the entire Spyderco Crew, we thank you for your generosity this holiday season!